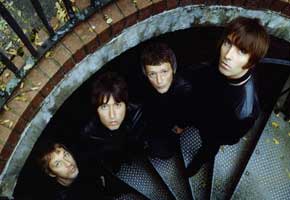 We already know how much Liam Gallagher adores The Beatles. He and his former band, Oasis, have covered 'em in the past. And let us not ignore Liam's unwavering aspirations to be as big, if not bigger, than the Fab Four.
Last weekend, he and his
Beady Eye bandmates took part in a London benefit show supporting Japan's disaster relief effort and performed a cover of The Beatles's "Across the Universe" during their set. But their charitable ways don't stop there.
BBC News reports that Beady Eye also recorded the tune — as featured on the Beatles' final LP, 1970's Let It Be — as a charity single. For a limited time, fans can download the song via the band's official site for $1.61 (£0.99), with $1.12 (£0.69) going to the British Red Cross Japanese Tsunami Appeal. Check it out below:
Read More
Filed Under: