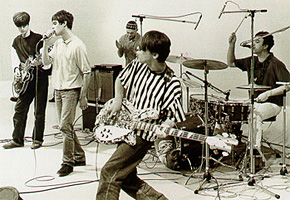 We bring you this news story more in hope than in confidence. We've all been let down too many times before, and the last time the denials did seem very vehement indeed.
So, according The Sun, '80s Mancunian beat-pop astonishments The Stone Roses are planning a reunion. This is different from all the other times that the tabloids reported that the Roses are getting back together, because, erm, OK, it's not any different. But what if it were true? What if they were capable of doing THIS again?
Let's examine the story and see, shall we?
What The Sun is saying is that Ian Brown and John Squire, the battling geniuses at the core of the band, who've not exchanged a friendly word in over 15 years, have buried the hatchet. The pair met up at the funeral of Roses (and Primal Scream) bassist Mani's mother.
Rather than stand in opposite corners and glare at each other, Ian and John struck up a conversation, which became a friendly conversation, and then a very friendly conversation.
A Roses insider said: "Ian has been mulling over reaching out to John for a while now. A lot of water has gone under the bridge and everyone has grown up. Ian has just gone through a tough time with a divorce and then Mani's mum's funeral brought everyone back under the same roof.
"It was an emotional reunion. There were no harsh words. It was a heartwarming breaking of bread. They had a lot to catch up on and have been in regular contact since."
And now, apparently, they're getting the band back together. Which would be so great, except for all the times they said they definitely were not ever going to do that.
Would you be mad for a Roses reunion? Tell us here.
Read More
Filed Under: