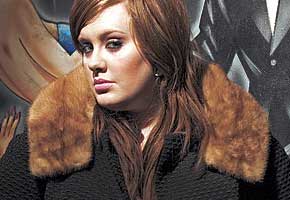 One of the reasons Adele is one of the best music performers in the world right now — apart from the tunes and the voice and stuff — is that she could not be more down to Earth if she was lying on the floor, at sea level.
So, when asked by Rolling Stone how she feels to be representing a different shape of female performer than, well, 98 percent of all the other female performers (say hello to Beth Ditto, everyone), she immediately came up with the best of all possible responses: a bit of harmless perving, and a hearty SHUT UP to anyone who wants her to change.
And here it is. She said: "I love seeing Lady Gaga's boobs and bum and I love seeing Katy Perry's boobs and bum. Love it. But that's not what my music is about. I don't make music for eyes."
"I make music for ears."
The temptation to make a sarcastic "duh!" noise at this point is almost overwhelming, but we'll rise above it.
She gave another good reason why she's not about to go down the glamorous sex-kitten route – self-consciousness: "My life is full of drama and I won't have time to worry about something as petty as what I look like."
"I don't like going to the gym. I like eating fine foods and drinking nice wine. Even If I had a really good figure, I don't think I'd get my t**s and ass out for no one."
Y'think she should maybe have a word with Britney Spears? It might help…
What's better, music for eyes or music for ears? Be honest now. Tell us.
Read More
Filed Under: