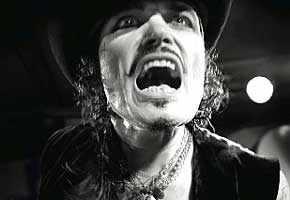 Whatever your feelings about Adam Ant as a pop star, you can't deny he's had some experience of the devastating effects that fame and public scrutiny can have on a person's mental health. So it's a rather brilliant move by The Sun to ask him to write a little piece for them about Catherine Zeta-Jones's recent woes.
Catherine, you'll remember, admitted herself to Silver Hill hospital in New Canaan, Connecticut for five days, to get treatment for bipolar II disorder. Meanwhile, her husband Michael Douglas, himself only just recovered from a battle with throat cancer, and her parents Pat and Dai, have been looking after her children.
Adam's perspective on the whole thing is rather wonderful. He said: "We don't know the ins and outs of her life but we know her husband has been ill and she's been raising the kids. And we know that she uprooted herself to live in another part of the world to marry into what is essentially a royal family — the Douglas family. None of that is easy."
"But despite outward appearances, the stresses in her life are no different from if they lived in a council flat. People shouldn't judge her — every family in the world has somebody who has had a mental illness of some sort.
A major concern of mine is the way that doctors are responding to depression by handing out anti-depressants like Smarties. These should not be taken lightly.
The way to cope is to realize that tomorrow is another day and you learn to work hard and play hard. You must take time off and switch off from the pressure. Lots of people are losing their jobs and then feeling worthless — that can lead to depression."
"It's important to try to take the pressure off and not let all those feelings build up."
No gags about ridicule or being scared, please. It'll ruin things.
Who wants to give Adam a hug? Tell us here.
Read More
Filed Under: