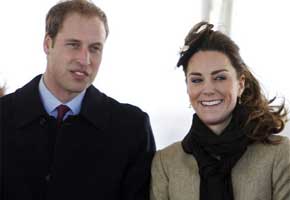 Here we are, just several hours away from watching Prince William take the lovely Kate Middleton as his wife. Can you believe it?
If you're down on the Mall near Buckingham Palace or obsessively combing through every article on the web, the pomp and circumstance surrounding the wedding is really quite something. And some of Hollywood's biggest names are also getting in on the excitement.
• Victoria Beckham, who will be at Westminster Abbey tomorrow (April 29) with her hubby David, shared her pre-wedding giddiness via Twitter: "London looks beautiful!!! We are so proud to be British! X VB x"
• And speaking of Becks, his buddy, rapper Snoop Dogg already dedicated his song "Wet" (now called "Sweat") to Wills for his stag party. And recently, Scotland's STV TV reports that good ol' Snoop told The Sun that he'll be rockin' tomorrow, BBQ-style. "I got the invite but unfortunately I'm barbecuing that day so I won't be able to make it. I got a lot of love for my nephew William and I wish him and his beautiful wife the best of luck."
• Tom Felton, Harry Potter's Draco Malfoy, is into all the hullabaloo as well, tweeting on Tuesday (April 26): "Just watched a documentary on Kate and William. So excited for the royal wedding. Proud to be British. Got my flags ready! x"
• On CNN's Piers Morgan Tonight this week, English actress Jane Seymour commended William and Kate for establishing a life together prior to saying their vows. "In my day and age, you couldn't live together before you got married," she said. "And I think the fact that they have lived together and do know one another, and they've had time to get to know one another that way, I think it's really important."
And in regards to the wedding itself, Seymour added: "I think that's what's so special about this wedding is people feel it's real."
• Another royal wedding enthusiast is The Middle's Patricia Heaton. Her character, Frances "Frankie" Heck has been totally enthralled with the royal wedding and some of that fascination has certainly influenced Heaton's outlook on the event. "I think by shooting The Middle and shooting Frankie's obsession with it, it's actually transferred into my bloodstream, because I have a little bit of it now!" Heaton told Digital Spy.
The former Everybody Loves Raymond star has also found herself going crazy for some of the royal wedding swag, too. "I've been buying up every souvenir I could find in the pretence that I'm sending them back to my producer, who is obsessed," Heaton added. "I'm actually buying two of everything because I'm keeping a set, so I'm actually starting to get a little bit obsessed with it."
• One guy who isn't embarrassed to admit that he'll too be watching tomorrow is Twilight's Robert Pattinson. Speaking to Britain's Radio Times (check out the full interview scans here), the dapper English actor confessed: "I'll definitely be watching the royal wedding. I mean, they're absolutely obsessed with it in America, it's insane … but I guess it's kind of a big deal. Actually, I think it's really sort of fascinating."
• Tori Spelling will be throwing a "Royal Wedding Sleepover Party" on Friday. She, along with husband Dean McDermott, previously offered some very smart advice to Wills and Kate via Yahoo!'s Royal Guestbook:
"Honestly, the biggest thing and it's one word, and people forget about it because it seems so simple, is communication," Spelling said. "You start off communicating well and day-to-day you get caught up in life and kids and work, [and] you forget to communicate. Remember to communicate."
• Paul Giamatti and Rosamund Pike, who both appeared in the 2010 comedy drama Barney's Version, have extended their best wishes to England's future king and his princess-to-be:
Read More
Filed Under: