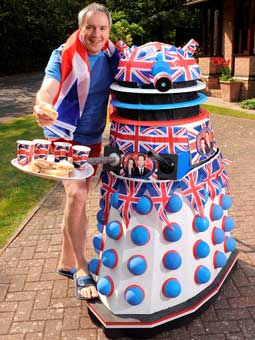 Royal wedding mania is in absolute full effect, folks! If you're one of the many royal enthusiasts hosting your own special soiree or if you've indulged in some of the creative royal wedding swag that's out there, cheers to you for embracing the moment.
The Metro reports that one Doctor Who super fan by the name of Chris Balcombe has certainly gone for it with his royal wedding Dalek. He's a pro when it comes to this kind of thing, too. Balcombe has previously worked on Daleks for the BBC and is also a proud owner of three.
"It's not every day we get a royal wedding, so it was well worth the effort," he said. "Besides, I bet our Friday bash is going to be the only street party with a Dalek serving up the grub!"
Decked in the colors of the Union Jack, this particular Dalek seems a bit more friendly compared to the devilish ones we're used to. And how about that mechanical grip? Genius! Um, don't you wish you could have this Dalek serving tea and crumpets at your royal wedding party on Friday (April 29)?
Read More
Filed Under: