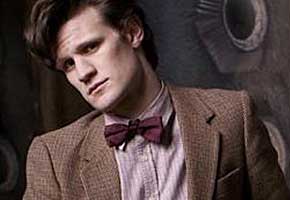 By rights, this first item deserves its own blog post, a golden one, with special calligraphy and a dusting of glitter all over, but no, it's Who's Day, and that means we've got certain obligations to meet.
So, please be upstanding, raise your teacups, lift your soda cans in tribute, as we tell you the astonishing news that Matt Smith, the ELEVENTH Doctor, has been nominated in the Leading Actor category in the TV Bafta awards. According to The Metro, this is the first time ANYONE from the show has been honored in such a way.
OK, he will be up against Benedict Cumberbatch for his work in Sherlock, Daniel Rigby for his portrayal of Eric Morecombe in Eric and Ernie, and Jim Broadbent for Any Human Heart, so there's a chance he might not win, but to be the first nominated Doctor is pretty astonishing nevertheless.
Other BBC America shows nabbed nods today as well. Being Human's dramatic third season was rewarded with its second consecutive nomination in the Best Drama Series category, where it competes with Downton Abbey, Sherlock, and Misfits. Meanwhile, Graham Norton is up for Best Entertainment Performance for hosting The Graham Norton Show, which is itself nominated for Best Entertainment Program. And Inbetweeners star James Buckley and Peep Show's David Mitchell are nominated for Best Male Performance in a Comedy Role. (See the full list of this year's nominees.)
The awards ceremony takes place on May 22. Fingers, tentacles and sink plungers crossed!
• Speaking of awards, did you know that three Doctor Who episodes have been nominated for Hugo awards? "A Christmas Carol," "The Pandorica Opens/The Big Bang" and "Vincent and the Doctor" are battling it out for the Best Dramatic Presentation – Short Form trophy (Long Form means movies, you see). (via SFX)
• When the cast of Doctor Who visited New York City earlier this month, Matt Smith, Karen Gillan, and Arthur Darvill each had their own lists of what they'd like to see and do in the Big Apple. Check out Darvill's culinary adventures below:
• We assumed the loyal Doctor Who fanbase would come out in droves for last Saturday's (April 23) season premiere. And in the U.S., 1.28 million devotees turned out in support to earn BBC America its highest numbers yet, says The Hollywood Reporter. Woo hoo!
• According to UPI, Today Show host Meredith Vieira is set to appear in an upcoming episode this season. Wh-wh-WHOA! No details on what kind of part she'll have, but the American TV personality is slated to film her spot in the UK on May 6.
• "Obviously Professor Brian Cox is still a bit too commercial looking to be the Dr, but at least he'd know where to find Gallifrey on a map." – A spoof news item about people's sense of reality dislocation around the show actually hits upon a surprisingly good idea. (via The Spoof, obviously)
• Steven Moffat tells Entertainment Weekly that Neil Gaiman's forthcoming Doctor Who episode, The Doctor's Wife, is "a lovely, magical, mad episode." And he has to leave it at that, otherwise spoilers will abound. He also goes on to dismiss a suggestion of bringing Doctor Who to the silver screen. "To be absolutely honest with you, I'd rather be making 13, 14 movies a year than just one every two years. Cinema is so slow and boring compared to television."
• Spoilers! Geronimo! Hello Sweetie! Here are Doctor Who's Top 11 Catchphrases. Which one is your favorite?
• Spring is in the air, my dear Whovians. A lovey-dovey Matt Smith and his gal pal Daisy Lowe look to be enjoying it, too. Awwwww!
• Have you ever seen a tiki Dalek? Perhaps a Hawaiian luau-themed episode could be somewhat entertaining, eh Mr. Moffat? Can't you just picture the Doctor in a grass skirt?
• Karen Gillan clearly has a vivid imagination. In an interview, she's asked where she would go if she had a time machine, and her answer has the makings of one totally freaky episode of Doctor Who. Watch the video, and head over to TimeMachineTales.com to see responses from other Doctor Who cast and crew.
Read More
Filed Under: