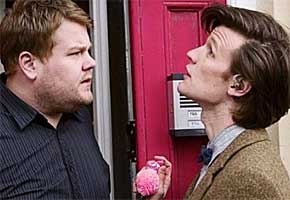 James Corden is a well-connected man is he not? Those Comic Relief videos with David Beckham and Paul McCartney, award presentations, scuffles with former Star Trek actors, the boy has done well.
And now it seems he is eager to use his new-found celebrity power to worm his way into a permanent role in Doctor Who. Or, if not permanent, then regular. OK, maybe semi-regular. How about sometimes? Just a Christmas card will do!
Doctor Who's producer, Marcus Wilson, has been explaining the decision to bring James's character Craig Owens back into the show, after his appearance as the Doctor's landlord in an episode called "The Lodger".
He told ShortList magazine: "James Corden wants to be a regular! What's lovely about Doctor Who is that people want to guest star in it. We set out the story commissions for this series and we knew that we wanted to do a sequel to "The Lodger."
"James said, 'Tell me when, I'll be there.' We thought that his episode would be a one-off, but it did so well that everyone was keen to do another. Now he's pitching for us to do a trilogy."
A trilogy? Or total domination of the univer… Oh hang on that's Davros. Sorry, my mistake!
Do you want to see more James Corden in Doctor Who? Tell us here.
Read More
Filed Under: