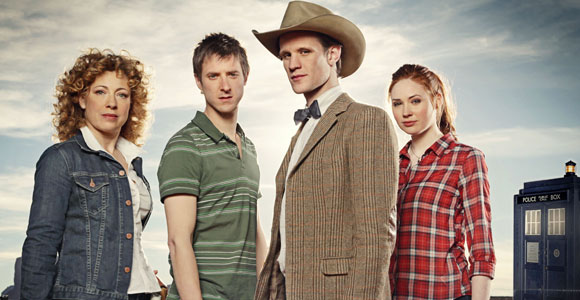 Hasn't it seemed like we've been waiting years for the new season of Doctor Who? It's as if we're all little Amy Ponds, eyes skyward, looking impatiently for signs of the TARDIS. Well, April 23 is the big season premiere, and it features scenes shot right here in the U.S. Stateside excitement has soared past mere "buzz" into a near frenzy.
Desire for details about the new season has been high as well. I'm sure Steven Moffat and company thank all the fans and reporters who've seen the first two episodes at various premieres and have refrained from posting spoilers. But doesn't that simply show the inherent decency of Doctor Who enthusiasts? The Doctor himself would be proud.
Sifting through all Who-related press coverage has been daunting, but here's a rundown of the run-up to April 23: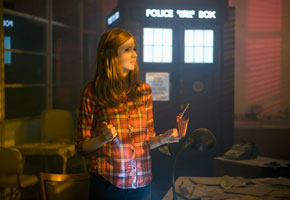 • If you didn't make April 11's Manhattan premiere screening of Doctor Who (or you just want to re-live it), Chris Hardwick's Nerdist blog has posted their audio podcast version of the Q&A featuring the cast and crew. Hardwick moderated the power panel.
• Karen Gillan, a.k.a. Doctor Who's Amy Pond, appeared on Friday night's (April 22) Late Late Show with Craig Ferguson, and there was rampant Scottishness and Whovian discussion. Watch the interview here.
• Matt Smith, Karen Gillan, and Arthur Darvill have done an absolutely brilliant video interview with Vulture in which they a) play Doctor Who pinball at an NYC arcade, b) discuss what they know and don't know about River Song, and c) crack wise about that Tumblr devoted to Matt Smith's hair. Oh, and Karen sings again. (Check out the first time, courtesy of yours truly. It has entered Whovian history.)
• Arthur Darvill as Sarah Palin? Karen Gillan as Snooki? Matt Smith as Ghostface Killah? Yes indeed. Buzzfeed convinced the Doctor Who cast to read American celebrity tweets in their best Yankeefied accents. Karen trying to pronounce "Snooki" is deeply amusing.
• Entertainment Weekly is loving the season's first episode of Doctor Who. Not only did the premiere make the magazine's Must List, but it scored an 'A' rating with the mag's TV reviewer Clark Collis. "The time-traveling Doctor (Matt Smith) journeys to 1969 America for the first half of a terrific two-parter that features aliens, Richard Nixon, and crackling dialogue. ('Why would anyone want to trap us?' 'Dunno. Let's see if anyone tries to kill us and work backward.')" For more EW exclusives, click here.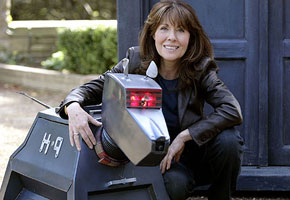 • UGO notes that BBC America will, in fact, acknowledge the passing of Elisabeth Sladen in Saturday's (April 23) premiere.
• Matt Smith has done a two-part video interview with Hitfix writer Alan Sepinwall, in which the actor talks about winning the role of the Doctor and filming in the U.S. for the first time.
• Matt tells The Daily Telegraph that the Who team is working hard to conquer America: "I'm fully behind trying to make that happen. We're doing everything we can. In Britain, Doctor Who is the closest thing we have to The Simpsons, really, because you can watch it with a six year-old and they'll laugh at the Doctor falling over, and you can watch it with a 40 year-old and they'll laugh at the Doctor getting it all wrong with River. I love that it's a family show, and I would love it to appeal to families in America – so that's the plan."
• In Entertainment Weekly, Alex Kingston (River) echoes Matt's comments about driving Doctor Who's family appeal in the U.S.: "The one thing I hope is that more children in America get on board. In England, Doctor Who has always been considered a children's show, at least by children. My daughter and her contemporaries, they feel like it's their show. Parents are allowed to watch but it's the children's show. Whereas here, it's still very much a show that people who are interested in sci-fi are all over. Children's programming in America, I think it's pretty shoddy in terms of lack of diversity. It's pretty much cartoons and Disney sort of shows. I don't find any of that stimulating for children. Doctor Who is really challenging and fulfilling on so many levels."
• Steven Moffat tells Gothamist "there's no rule against" having Russell T Davies's characters return to the show: "I mean, Jack, who I wrote in the show, I'd love to have him back. I was thinking he should really be here recently but he's busy [making the next season of the Who spinoff Torchwood for Starz]. And I mean there are references to Davies' characters — we just had a reference to Rose, in fact. In my head there is a continuing story. There's no idea that we're abandoning anything. There is an element that the Doctor moves on from people in a rather scary but inevitable way. He won't be nearby forever."
•
BBC America Shop is celebrating the new season with 21 new products, including a Doctor and Amy Pond alarm clock, a TARDIS playset, and a fly Master's fob watch.
• In Matt Smith's absence, fans at the Chicago screening of the premiere on Wednesday (April 20) were treated to a video message from the star. He's mad cool.
• Last week (April 11), we saw the large-scale Manhattan premiere of Doctor Who's new season, but how do Brooklynites rock it out? BBC America and Secret Formula took the power of Who to the outer boroughs on Tuesday night (April 19), screening the season's first two episodes at the Bell House bar in Gowanus. Fans took part in costume contests (a disturbingly real-looking Weeping Angel won), trivia competitions, and ate Who-themed party dishes before the Doctor double-feature. Photos have been posted to the BBC America Facebook page, but here's a sampling. Photos by Benjamin Gustafsson.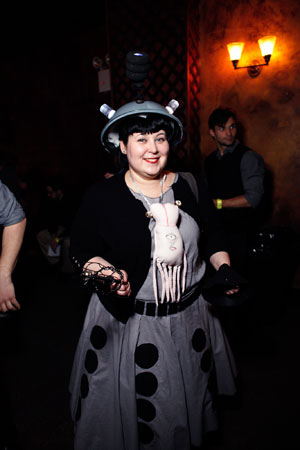 Read More
Filed Under: