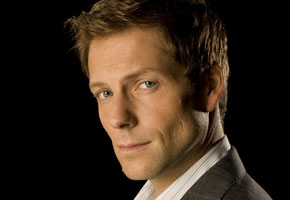 Jamie Bamber is one of the pioneers of the recent British Invasion of American TV. In 2004, the handsome, London-born actor began a five-year run on the acclaimed reboot of the sci-fi series Battlestar Galactica, skillfully assuming an American accent as the morally upright Apollo.
But here's a less well-known fact: he's actually American.
"I ought to say that as a lifelong U.S. citizen my position is different from most Brits coming here," he said, on-set shooting a pilot in Vancouver. While Bamber spent his formative years in the UK, his U.S. citizenship is owed to his American father. He now lives in L.A. with his wife and three children.
"I came because I was able to work here and because I felt a need to be here," he adds. "I wanted to acknowledge my U.S. heritage and to belong to it more closely. Having said that I am certainly British by formation and education and readily think of London as home. I had never lived in the U.S. till 2007."
After a stint in Britain as DS Matt Devlin on Law & Order: UK and, recently, Mitchell on the sci-fi drama Outcasts, Bamber may return to American TV this fall. He has re-teamed with Battlestar exec producer Ron Moore for the NBC pilot 17th Precinct, an innovative cop drama with supernatural elements. Bamber plays a Yankee police officer on the series, trading in Apollo's patrician tones for a working-class Irish accent. "My preparation was pretty minimal," he says, "although I did re-watch The Fighter and The Town to absorb a hint of Bostonian Irish."
Bamber joins the likes of Minnie Driver, Ioan Gruffudd, Jason Isaacs, and Toby Stephens in the cadre of UK-based actors booking U.S. pilots this season. We had the chance to ask the 38-year-old star why so many British thespians make the westward pilgrimage each year. And he gives an illuminating look at the ins and outs of the TV business on both sides of the pond.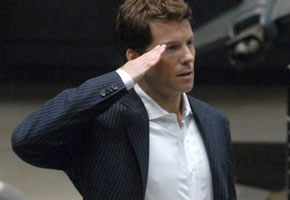 Anglophenia: Why are so many British actors coming to Hollywood nowadays?
Jamie Bamber: When I first did a U.S. pilot season there were very few British actors schlepping around town trying to get into television. That was 1999. Cut to 2011 and I was recently reading with some prospective co-stars for my recent pilot. I conservatively estimate that a third of the actors I read with were from the UK. And the really stark difference is that they were not the established actors that used to try their hand over here having already cracked the UK. They were, for the most part, unknown and looking for the big break.
So what has changed? Well everything. Firstly American TV has been transformed. It started with Hill Street Blues and continued with an entire library from The West Wing, Six Feet Under, The Wire, The Sopranos, The Shield, Damages, Battlestar Galactica, Breaking Bad, and so on. American TV has genuine kudos and it's natural that Brits want to participate.
The shows are far less American than they used to be too. There are opportunities for foreign actors to play foreign roles. It is not just Brits. Hollywood is replete with Aussies, French, Israelis, Swedes, any nation you care to name. The place is more diverse than it used to be because films and TV shows are being made for a global rather than a purely domestic audience.
Secondly, you have to look at what's going on in the UK. When I was trying to find work after drama school in London, it felt like the same actors always got the plum roles, especially in television. We have a smaller market place, vastly fewer drama-producing networks, and they seem to compete for the same established names for those projects. The big-time casting directors in London have pretty limited lists of actors they consider. I wasn't really on those lists when I was in my late 20s so I went to L.A. Many other Brits seem to have the same reaction these days.
Thirdly, there is the issue of pay. The money is much better in the U.S. For everyone. Even if it's your first gig, a series regular role will earn you a decent living. Having spent the last three years mainly in London on Law & Order: UK and talking to some of our guest stars, I am not sure how you can raise a family as a jobbing actor in London any more. It is really tough.
Fourthly, British actors used to be scared of the multi-year options that U.S. TV shows demand. That has changed because the same is now happening in the UK. New series in Britain now insist on getting talent for three years typically. And yet they can't really compensate you for that commitment. At least in the U.S. you can trust that if the show takes six years of your working life, it will have been financially worth it.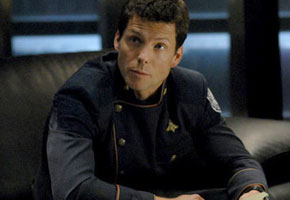 Have you seen an increased demand for UK actors in Hollywood?
I think [the increase in British talent] is actually a result of the greater supply. The technology exists to sit in your bedroom in London and to tape an audition before uploading it to a website for a U.S. agent and casting director to view. That means that almost every actor in London is participating to some degree in pilot season, the crazy two months when all the potential new shows are cast and made. It follows that more Brits will end up in L.A.
You can't ignore that British actors tend to be happy with less too. Less money, smaller trailer, less trouble than the U.S. equivalent who has grown up in the industry from a fairly young age. That is not to disparage American actors, whom I admire absolutely; they are just used to things here and have built up much higher quotes [work fees] over their working years than any Brit walking into the workplace here for the first time.
U.S. casting directors and producers also have a romantic notion of what it is to be a British actor. They seem to think that our theater training lends itself to greater versatility and expressive qualities in an actor. In my opinion they are actually wrong. Maybe it's because I have the reverse notion having grown up and trained in the UK. I actually find the traditions of American screen acting — Method, etc. — more romantic, intriguing, and inspiring. But each is a stereotype more often disproved than confirmed.
The demand, though, is also increased because the content allows it. The stories being depicted on TV now are of a broader, more international appeal. The U.S. looks beyond its borders culturally, politically, and economically in ways it never did in previous decades. It is logical for casting to reflect that.
How would you compare U.S. TV to British TV in terms of quality?
The comparison is almost unfair. Certainly as regards budgets, advertising, markets, and talent pools, the U.S. is more affluent in every sense and can take greater risks. The pilot system itself means they are geared up to making mistakes which means they might try something on a large budget that they will never actually air. The pilot I just shot cost $9 million. That would pay for an entire series of an average British drama. British networks are far more risk averse when it comes to long format series commissions, usually relying on the tried and tested variations on cops, doctors or lawyers. They are certainly in no position to spend large chunks of money on a risk that might never make it to air.
However, Britain still makes some of the very best television, usually in the short form series or one-offs that U.S. television increasingly ignores. The BBC in particular is something the U.S. networks cannot match for its freedom from either subscription or advertising needs. It is just a shame that we, the British public and our politicians, seem hellbent on having it compete with other commercial broadcasters to justify its license fee. HBO does not feel any shame when The Wire gets less than a million viewers; the kudos from true creative excellence outweighs eyeballs.
British TV's shorter seasons provide actors with a bit more freedom. If 17th Precinct becomes a 24-episode-per-season network series, you'll have potential job security but also less time to explore film and stage roles – how do you reconcile that?
We all would prefer to retain the freedom to pursue different parts in different projects whenever we choose. Absolutely. Even working on 17th Precinct for my trusted friend, Ron Moore, was a dilemma for me because of the six years I had to sign away and because it shoots in Canada. But this was Ron and so I did.
So little TV shoots in L.A. now and practically every TV contract includes language that could demand you move to, say, Shreveport, Louisiana, for nine months of the year. That is very hard for a father or mother to embrace. No offense to Shreveport. But the same is true in the UK. I have recently been offered  things there that ask me to spend six months in South Africa, India, Bulgaria on multiple year contracts — lovely places all, that I would dearly love to visit — but to bring up my family? On a whim? Just can't do it. If I were single and childless, I might have made more daring artistic choices but actually I am not sure. In any case I hope to be able to earn the freedom to make those choices in my 40s or 50s!
Read More
Filed Under: