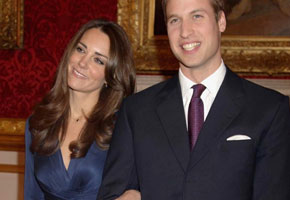 In a royal wedding with the world watching, a lot of things could go wrong. As Brides Magazine deputy editor Sally Kilbridge explains in her penultimate Brides Checklist, Prince William and Kate Middleton will have a chance to work out the kinks in their ceremony with a final rehearsal.
The typical wedding rehearsal is pretty simple: basically, the bridal party figures out in what order they'll walk down the aisle. For Kate and Will, it's more like staging a five-act opera. They've already been to a number of practice sessions, but this week things will ramp up to a whole new level of intense.
First among the maneuvers to be mastered: Kate's exit from the limousine. This is a daunting move for any woman wearing a floor-length gown; with two billion sets of eyes on her, Kate will want to try a few dry runs, perhaps pinning a sheet to her skirt as Diana did 30 years ago.
Next, that processional. Things get more complicated here, since there's quite a parade: a platoon of religious officiants; Kate on her father's arm, followed by seven bridesmaids and pages, some as young as three years old. The posh tots will be rehearsed until there's no chance of a freak-out. (Somehow, the prospect of a child wailing for her mama isn't so cute when the Queen is in the front pew.)
After this, the couple and their wedding party must learn the ceremony choreography: when to stand, sit, kneel, and murmur their "amens" during the hymns, readings, fanfares, prayers, and orchestral pieces. Various members of the wedding party will be wrangling Kate's bouquet, arranging her train, and giving Will her ring — all of which needs to be done effortlessly.
Here's one thing the bride and groom don't need to practice: the smiles they'll be flashing as they walk out towards the adoring crowds. Some things, like genuine joy, can't be rehearsed.
For more Brides coverage of the royal wedding, click here.
See last week's checklist: Kate's private dress rehearsal.

Read More
Filed Under: