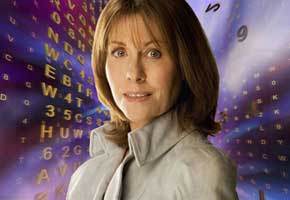 With the very sad news of Elisabeth Sladen's passing at age 63 from cancer, many of her Doctor Who colleagues have shared some kind words about the actress who played companion Sarah Jane Smith for nearly four decades.
Current Time Lord Matt Smith guested in an episode of The Sarah Jane Adventures with Sladen in 2010. "What struck me about Lis was her grace," he said in a statement. "She welcomed me, educated me, and delighted me with her tales and adventures on Doctor Who. And she also seemed to have a quality of youth that not many people retain as they go through life. Her grace and kindness will stay with me because she had such qualities in abundance and shared them freely. I will miss her, as will the world of Doctor Who and all the Doctors that had the good pleasure to work with Lis Sladen and travel the universe with Sarah Jane."
Tenth Doctor David Tennant also starred in several Doctor Who episodes with Sladen during his five-year career on the beloved sci-fi series. Like Smith, Tennant also appeared in a 2009 episode of The Sarah Jane Adventures. "I just can't believe that Lis is gone," he said. "She seemed invincible. The same woman who enchanted my childhood, enchanted my time on Doctor Who and enchanted generations who have watched her and fallen in love with her, just like I did. I feel very honored to have shared a Tardis with Sarah Jane Smith, and I feel very lucky to have shared some time with Lis Sladen. She was extraordinary."
British actor Tom Baker worked alongside Sladen when he took on the role of the fourth Doctor. He took to his official site to pay his respects to his former co-star. "Sarah Jane dead? No, impossible! Impossible… I had no idea she was ill; she was so private, never wanted any fuss, and now, gone. A terrible blow to her friends and a shattering blow for all those fans of the programme whose lives were touched every Saturday evening by her lovely heroic character, Sarah Jane Smith."
John Barrowman via @Team_Barrowman: Elisabeth Sladen Matriarch of Dr Who – I loved my time on the Tardis with her. I am proud to have worked with such an icon of the sci fi world. Your Dr Who family are very sad and will miss you and your beautiful smile… She was a delight. Can't tell you how sad I am. I wanted to let you know I got the news as a lot of you were concerned. I'm off to chill, I hope you understand.
Neil Gaiman via @NeilHimself: It looks like the Lis Sladen news is official. Big sadness. Rest in Peace.
@StephenFry: What terribly sad news about Elisabeth Sladen – her Sarah Jane was part of my childhood. Deepest sympathy to her family.
Read More
Filed Under: