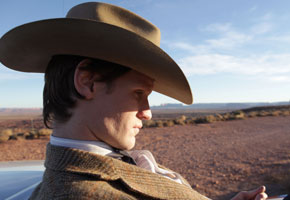 The journey to the American West has inspired many a creative soul to put pen to paper. So it's not surprising that Doctor Who's trek to the Utah desert would bring out Matt Smith's inner John Steinbeck. While shooting in the U.S. for the first time, the star recorded his musings in a diary, now made available to Radio Times Magazine.
Arriving first in L.A., Smith says that Angelenos warned him "there was nothing in Utah." But the rusty vistas of Monument Valley had an immediate impact on him. "And boom — from my motel, I look out and see the red-colored desert, and I'm in awe," he writes. "It's majestic. I go get pancakes. Karen [Gillan] is on the make-up wagon. 'Oh my God, oh my God, it's amaaazzzing,' she buzzes. I agree.
"As the day winds on and we bemoan our jetlag, I'm excited about this afternoon. Karen is being chased by a helicopter, and we have big black stately cars kicking up the dusty desert in a chase. This is where Forrest Gump stopped running, where Indiana Jones found the Temple of Doom, and now where the Doctor faces his darkest hour…"
Yikes. There's that talk about "the Doctor's darkest hour" again. Clearly, fans are in for some gut-wrenching drama this season, a thought supported by showrunner Steven Moffat's recent Radio Times piece. "This year Doctor Who happens twice," Moffat says. "Seven episodes now, a cliffhanger that changes everything, then six more episodes after the summer. But that's not all that is changing. Last year was a rollercoaster: Matt Smith's amazing new Doctor came bursting out of the Tardis and tried every ride in the funfair — except one. It's time to step aboard the ghost train."
I have no idea what he means by all of this, but I'll be watching.
Read More
Filed Under: