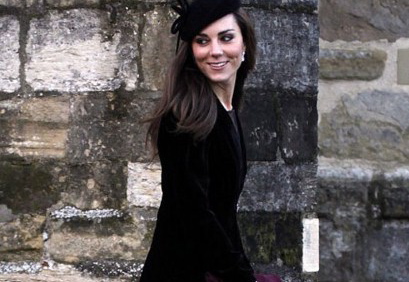 The Daily Mail may have finally answered the burning question as to who is the wedding dress designer. The designer is (drum roll, please)…Sophie Cranston of the "low-key" label Libelula? Kate wore a black velvet Cranston-designed coat to a January wedding. But Cranston is not so much the designer as the dressmaker. The Mail says Middleton actually designed the ivory-and-lace wedding gown with pearl buttons and a 10-foot train. Cranston, 34, won the Designer of Year award at London's Graduate Fashion Week in 1999 and previously worked for Alexander McQueen and Alice Temperley. She founded Libelula, which means dragonfly in Spanish, in 2002. Cranston's other celebrity clients include Jerry Hall and Emma Watson. If you're one of Cranston's friends, and she hasn't told you the news, don't feel bad. Not even her mother knows. "I'm sure it's not the case," Cranston's mother, Mary, told The Telegraph. AP has issued a review of all the (previous?) designer contenders.
Other royal wedding related stories:
• Of course, accessories are the key to any outfit. "Friends," according to The Daily Mail, say that Kate will wear diamond-and-pearl earrings on the big day. It is unknown if these are new or family heirlooms. Other jewelry will be borrowed from the Queen, who, presumably, can spare it. This is said to include a "dazzling" tiara. (The tiara-wearing may end the alleged tiff Kate had with Camilla about wearing the bauble.)
Kate's shoes may come from Selfridges. Kate was reportedly recently seen in the VIP area of the store, along with her mother, Carole, and her sister, Pippa, trying on stilettos.
• Meanwhile, it appears that Carole has had a falling out with the designer of her wedding frock. Kate's mom had tapped Lindka Cierach, one of the UK's best-known designers. Cierach has done work for Queen Rania of Jordan and Catherine Zeta-Jones. Cierach's prices start at £4,500 ($7,300). Carole asked Cierach about three weeks ago if the still-uncompleted dress could be delivered to her home so she could show it to friends. It is unusual for a designer to permit an unfinished dress to leave their studio. Cierach told Carole the request was "unconventional," although she would grant it, provided Cierach could accompany the dress. Carole allegedly refused and then dismissed Cierach, according to The Daily Mail. At this point the story deteriorates into squabbling between allies of each side. In any event, Carole intends to pay Cierach's bill in full.
• To some, part of the romance of the royal nuptials is that Kate's life changes completely once she becomes the wife of the next king of England. Myjoyonline.com lists some of the obvious – and not so obvious – ways her life will change. Voting is out because it is seen to compromise the monarchy's neutrality. So is signing anything unofficial. The theory is that "unofficial" autographs could result in forgeries or copies. The authenticity of her signature is important because Kate may have to sign government documents. Shellfish is banned because of fear of poisoning. And when dining with the Queen, it is best to eat at least as fast she does. When the Queen is finished with a meal, all plates are removed.
• Of course, Kate's name will also change. Formally, she will not be known as Princess Kate. (Try telling that to a headline writer.) In fact, it is unlikely she will formally have the title of "Princess" in her own right. BBC News attempts to parse the arcane and complicated practice of royal naming. For instance, the moment she marries William, Kate becomes Her Royal Highness, Princess William of Wales. But that does not entitle her to be called "Princess Catherine." That title is reserved for females who have blood ties to the royal family. For instance, the Queen's late sister was Princess Margaret, the Queen's daughter is Princess Anne, and her granddaughters are Princess Beatrice and Princess Eugenie. Even William's mother, inevitably called Princess Diana, was not actually a princess. Her title before her divorce from Prince Charles, William's father, was Princess of Wales, and after the divorce, her title was Diana, Princess of Wales.
It is likely the Queen will name William the "Duke" of some territory on his wedding day. (Likely it will be in Scotland to indicate the unity of the UK.) Then Kate will be formally known as the "Duchess" of something. However, the Queen, being the Queen, can do whatever she wishes. Although it is considered unlikely, she could name Kate an "official" princess. That's what she did when she gave her husband, Philip, the "Prince" title in 1957, after ten years of marriage.
• Remember those one-of-a-kind Kate and William Pez dispensers that were to be auctioned on eBay? The results are in. The winning bid was $13,000, Reuters reports. The winning bid, one of 33 submitted, falls well short of the $32,000 reported record for a Pez dispenser. All that's known about the winning bidder is that their eBay handle is Frank841950. Proceeds will be donated to charity.
• If you're visiting London for the wedding, or even if you're not, the website Lonely Planet, BBC America's corporate cousin, devotes considerable thought to the event, and it's worth a look. There is a debate about whether to stay in London on the big day or visit elsewhere, and suggestions of places in the UK where the royal couple should honeymoon. There's even a list of ten things to do in London when feeling sad. The final suggestion is a minor masterpiece.
Read More
Filed Under: