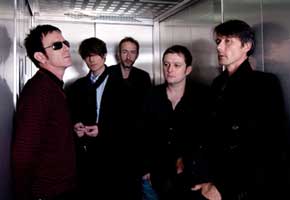 Once hailed as "The Best Band in Britain" by the gone-but-not-forgotten Melody Maker, Suede ruled much of the nineties' Britpop scene with their sly, yet slick twist on British life, and with an alluring sex-streaked darkness that their rock heroes (David Bowie, T. Rex) could be proud of. They earned three UK No.1 albums (including their 1993 Mercury Music Prize-winning debut) and issued a host of Top 10 UK singles. Behind-the-scenes drug and alcohol problems strained the band through 1999's Head Music. But by the time Suede issued their fifth and last studio album, 2002's A New Morning, Anderson was clean. However, it didn't sell nearly as well as their previous efforts and the band's popularity had somewhat faded. They would call it quits a year later.
This weekend, Suede (a.k.a The London Suede in America) — vocalist Brett Anderson keyboardist Neil Codling, drummer Simon Gilbert, guitarist Richard Oakes, and bassist Mat Osman — will be one of the many British acts descending upon the Indio, California desert for the annual Coachella Valley Music and Arts Festival. This particular show marks Suede's first proper live return to the States since 1997. And such a moment only builds on the revered Britpop outfit's past year, which started last March at the Teenage Cancer Trust benefit at London's Royal Albert Hall.
Just ahead of the band's Coachella performance, I had the pleasure of speaking with Anderson. The 43-year-old singer — who was at home in London, sitting in his garden and having a cup of tea ("Is there anything more English than that?" he said.) — detailed the band's recent reunion, the importance of Suede's legacy and what their future holds. And will there ever be another Suede album? Read on to find out.
Last spring, Suede reconvened for the first time in seven years to participate in the Teenage Cancer Trust charity show at Royal Albert Hall. Since then, the band has gone on to perform additional gigs throughout the UK and Europe. What's it been like thus far?
It's been amazing! After being away from the band, you remember what amazing musicians they are and what an amazing feeling it is standing at the front of the stage, singing those songs. It's an incredible privilege in life to be in this ridiculous position where I go on stage, sing these songs that I absolutely love, and get paid to do it. You sometimes pinch yourself and expect to wake up, you know what I mean?
But it's been a fantastic year. We'll carry on doing [this] until it stops feeling special.
Can you describe how you felt after playing Royal Albert Hall?
It's a feeling you can't really describe unless you know what it's like being on stage. It's one of those particular highs — you can sort of compare to drugs or something like that if you want [laughs]. I suppose there's a lot of ego in it, otherwise you wouldn't get out there and perform. But there was a lot of pride and a lot of joy — lots of physical animal fun that we had that night.
And I have to say this. That was my favorite show ever in my 20-year career. That was the pinnacle for me on stage. It really was.
The Best of Suede double-disc dropped in the U.S. on March 22. What was it like putting that together?
I spent a lot of time thinking about the best songs that the band had released, but I also I tried to differentiate myself from any political decision, like band politics — focusing on different lineups and stuff like that. I tried choosing songs that I thought were the most timeless and the most powerful. Not necessarily my favorites, but ones I thought, in a broader sense, represented the best of the band.
I struggled with the fact that there were songs that I had to leave out: "Indian Strings" from Head Music and the B-side "Simon," A New Morning B-side "Cheap," and "She's Not Dead" from the first album. For me, a Best of Suede would be a triple album. Not double album. It certainly wouldn't be a single album.
And when you're choosing a Best of of your career, I think it's very important to do it for the right reasons. If you're calling out the best of your band, you've got to be sure that those songs really represent what you think is the best of what you've done. This is your legacy. When I've faded away to a nursing home or something like that, this is my document that's sort of validating my life. To treat that in some kind of blasé fashion is something I wouldn't want to do.
Suede hasn't performed in the States in 14 years, but will mark their U.S. live return at Coachella on Saturday (April 16). Why did you decide to play Coachella?
The reason why we're doing Coachella is because it has an amazing reputation and a growing reputation of being a very cool festival. I think with this whole Suede reunion we wanted to do special things. We didn't want to do some kind of back-breaking world tour. We thought we'd do one day in the States and see how it goes. I really don't know how it'll go down, whether our fans are still there or whether they've remembered us. I'd like to think that they are because I like to think the music has a timelessness that they still respond to. We're all looking forward to it.
You recently revealed to Rolling Stone Indonesia that the band is indeed working on new material. How's it going so far? And is it true that it might not be released?
It's absolutely true that it might not be released. We don't have any record companies banging on the table saying, "We must put a record out next March" or something like that. We're literally doing it for our own pleasure and we're writing for fun. If it turns out, great, then people hear it. If it doesn't, there's no desire to release a sub-standard Suede record just because we feel like we should release one. I'm not sure it'd leave the legacy intact.
I feel enough remorse that we released the last Suede album, A New Morning, to be honest. I really think that was a mistake. I think it could have included different songs from that period that would have made the album stronger. But we didn't and I kind of regret that. And part of getting back together again and having the beauty of hindsight is learning from those mistakes.
[The writing process is in] it's early days. We've started tinkering around and writing a couple of things, but we've been preparing for shows as well. It's not like we've got into our body of work yet. Writing is an interesting process and it contains phases. And we're not even at the start phase yet. We're just establishing ground rules and starting to get each other's wavelengths. But I'm confident there will be a sixth Suede album. I am. I am going to put all of my energy into making a fantastic record. And when I put all of my energy into something, it tends to happen.
You reconnected with former Suede guitarist Bernard Butler for The Tears in 2004 and issued Here Come the Tears a year later. I know Butler also helped with the Best Of collection. How's your relationship?
I love working with Bernard. I love what we do together. I think he's an amazing musician. I've only got massive, massive respect for what he does and massive respect for him as a person. For me, our relationship, it's a special relationship. I think that we both reached our peak working with each other, I really do. I think the first two Suede albums are kind of untouchable in their own ways. And the B-sides he wrote in that period are quite untouchable.
I can't see us working together in the sense of reforming a band and touring. But I wouldn't ever count out working with Bernard again. I wouldn't ever count out us doing anything with anyone ever again. That's the beauty of life — you don't know what's around the corner.
Since leaving Suede in 2003, you've gone to release three solo albums; Brett Anderson (2007), Wilderness (2008) and Slow Attack (2009). And I hear you're working on a fourth. Can you share any details? How are you able to balance all of that with what's happening with Suede at the moment?
The beauty of my career is that I don't feel like I have to put my eggs into one basket. In the '90s when I was in Suede, that was the only thing that I wanted to do and that was the only thing I cared about. I love working with Suede and of course it's kind of my main thing, but that doesn't prevent me from doing other things. I love making solo records. It's been a great learning process for me and a great evolution as a musician. I'll definitely carry on doing solo records. I'm no spring chicken, I'm 43-years-old. When you get to this age, I think you should be given the leeway to be allowed to do all kinds of things. And I feel like I can balance 'em out these days, you know?
The new solo record is a rock-based record with guitar, bass, and drums. It'll be out in September. I recorded it basically as a three-day, improvised jam session. Then I wrote songs on top of them. It's a very exciting record and I'm incredibly proud of it.
What bands are you especially keen on these days?
I love Foals, The New Puritans, Chapel Club, Bat for Lashes, Fleet Foxes, Midlake… I love The Horrors! It's a very healthy music scene at the moment!
*Suede announced via Twitter on Tuesday (April 12) that due to U.S. visa complications, bassist Mat Osman won't be on hand for their Coachella performance.
Read More
Filed Under: