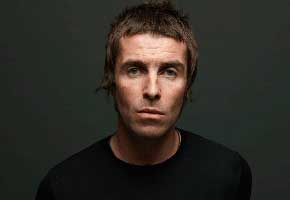 Man, that Liam Gallagher sure knows how to keep things interesting… er, keep the press talking, rather.
While he remains quite the rabble-rouser (which we love), having hit out at brother Noel plus Radiohead in recent months, the 38-year-old Beady Eye frontman seems to be lightening up just a bit.
There was that clever April Fool's Day joke a few weeks ago. And now, The Metro reports that Gallagher has revealed his adoration for a one Rod Stewart. The ex-Oasis singer apparently cues up his 1978 hit "Da Ya Think I'm Sexy" prior to hitting the stage and isn't ashamed to admit that it's Roddy's gritty vocals that really get him going.
But someone in the Beady Eye posse is supposedly not too keen on Gallagher's current "Infatuation" (heh heh!) with the Scottish rocker. And BBC Radio 1 personality Zane Lowe had to break the news to dear ol' Liam.
Um, how do you think he responded?
Why he advised that "someone [in the Beady Eye] camp needs to get a sense of humor." Of course he did!
What song suggestions might you have for Liam Gallagher's pre-show prep? Tell us here.
Read More
Filed Under: