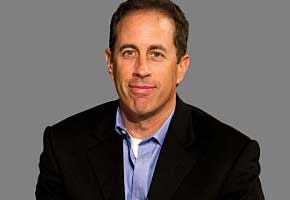 Today you find the UK in a little bit of a tizzy, as if the natural order of things appears to suddenly have been reversed.
Until this very morning, showbiz worked like this: we sent our comedians over to your awards ceremonies, they delivered some tart one-liners, some people laughed, some people got offended, job done.
Now we've got Jerry Seinfeld making equally tart gags about the Royal Wedding, and basically offering payback for Russell Brand and Ricky Gervais combined, and suddenly things don't seem quite so funny.
Appearing on the ITV breakfast show Daybreak in a pre-recorded interview (as transcribed by the Mail), Jerry was asked if he's as excited about the event as some of his fellow Americans (*waves at you*), to which he responded, with a certain degree of irony: "Yes, I'm very excited. Well it's a circus act, it's an absurd act. You know, it's a dress-up. It's a classic English thing of lets play dress-up. Let's pretend that these are special people."
But… but… how mean! He's supposed to be promoting his concerts at London's O2 Arena — from New York, might I add — and he comes out with THIS?
Or this: "OK, we'll all pretend that — that's what theatre is. That's why the British have the greatest theatre in the world. They love to dress up and they love to play pretend. And that's what the Royal Family is — it's a huge game of pretend."
"These aren't special people — it's fake outfits, fake phoney hats and gowns."
Ending his rant with a more friendly flourish, Jerry said: "It's fantastic. We don't have anything like that."
Once the interview had finished, the show's hosts, Adrian Chiles and Christine Bleakley, even joked that if he keeps that kind of talk up, his next gig would be in the Tower of London.
Adrian mock-fumed: "I'll join in on any of that stuff, if it's a Brit saying it. But I can't bear Americans criticising the Royal family. It turns me into a Royalist!"
See what I mean? It's like Russell Brand at the MTV Video Music Awards (2008) all over again, only the wrong way round. You'll be beating us at cricket next!
What do you think of Jerry's rant? Tell us here.
Read More
Filed Under: