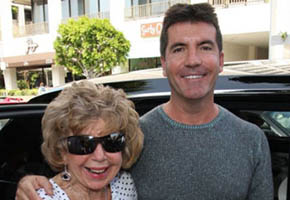 To say Simon Cowell has his hands full would be an understatement.
The British entertainment mogul is crazy busy getting the U.S. X Factor ready for its September launch. Between juggling auditions and sorting out who'll land on the judge's panel, the guy is also prepping for the May return of America's Got Talent.
And there's Britain's Got Talent. Its fifth season premieres on April 16, and Cowell will offer his tough remarks during the live stages. But that's not all. A new British game show called Red or Black — featuring BGT personalities Ant McPartlin and Declan Donnelly (a.k.a. Ant & Dec) — is slated to debut in the fall.
But as far as his mother is concerned, all of this is just "too much for one person."
According to The Sun, an inside source says that 84-year-old Julie Cowell is "putting her foot down."
"Simon's mum is freaking out," said a source. "His family think[s] he's doing too much and are telling him to slow down before his workload seriously damages his health. There's no point being the richest man in the cemetery. The family are protective of Simon and saw what happened to his father."
Cowell's dad, Eric, a record label exec, passed away from a heart attack in 1999. The 51-year-old Cowell recently told Piers Morgan on Piers Morgan Tonight that it was the "worst day" of his life.
Here's hoping Cowell takes a breather to listen to his dear mum. After all, mother knows best.
Read More
Filed Under: