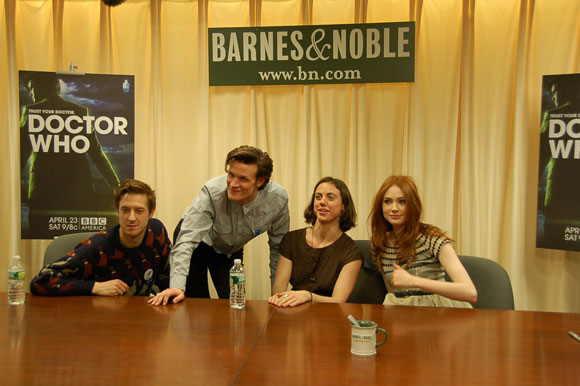 It's always a coup to get a sit-down with the Doctor Who cast, so we were excited to land a backstage interview with Matt Smith, Arthur Darvill, and Karen Gillan at a fan signing at Barnes & Noble in NYC today (April 8). These guys ooze chemistry. They cracked a joke that they should start a band together — and when you watch the video, you'll see why. (I want to steal garments from their closets.) You even get a sampling of Karen's vocals halfway through the video. FIIIII-JIIIIIIII.
Also, Karen tells us a little bit about her upcoming BBC movie in which she plays '60s UK fashion icon Jean Shrimpton:
Also, BBC America has posted numerous photos from today's event on Facebook. Check 'em out.
Read More