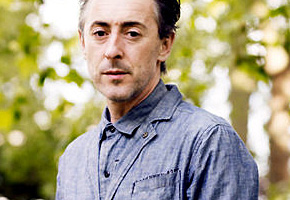 The actor Alan Cumming has been explaining the lengths he had to go to in order to prepare for his roles as a transvestite called Desrae, in the UK TV series The Runaway. It's not just the dresses and makeup, there's a whole other world of pain out there.
Speaking on the Fern Britton show on Channel 4, he said: "I think it's probably quite a good thing for every man to have to do that at one point, just to see what girls go through."
"I decided to go with this [cream] called Veet, or Nair. You put it on and it dissolves your hair off. Disgusting. It smells like a rancid, radioactive pool. It makes all the hair just disappear, like a torture thing."
And this from the man who had to endure hours in the make-up chair in order to play blue-faced Nightcrawler in X-Men 2.
He went on: "And then you've got to keep loofah-ing all the time otherwise you get ingrown hairs. You saw my bum, so I had to do it everywhere. Desrae is smooth as a baby's bum. That was bad."
"Even things like the clothing was very restrictive and uncomfortable and I had acrylic nails painted on."
Brilliantly, there was some respite from the makeover madness, in the form of a brief televisual dip into his own family tree, as Alan explained: "In the middle of filming, I came back to Britain to do that Who Do You Think You Are? show for the BBC. When I see the show, it's so funny because I have no body hair at all and I'm actually quite hairy, but I was there like a plucked chicken."
Normally we'd be trying to think of something witty to say here, but if you don't mind…might just have…to…lie down for a bit…
Ladies, is he making too much of a fuss? Tell us here.
Read More
Filed Under: