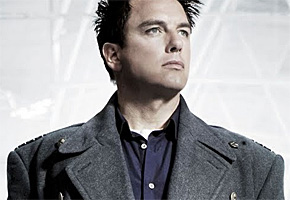 As if the rabid excitement around the new series of Doctor Who wasn't enough, there's also the new, reswizzled Torchwood to think about. The Who spinoff's fourth season is called Miracle Day, and will be shown on Starz from July 8. It's largely being shot in LA, on a budget three-times larger than previously, and has almost entirely been written by Russell T Davies.
I know, I could've added "on the moon" at the end there, and it couldn't have been more exciting, right?
But surely any change to the magic production formula could damage the fragile chemistry of the show? Not so, says John Barrowman, and he should know.
He told Deadline: "There is so much more we can do with Torchwood now having made the leap to America. It's going to be even bigger and better. And for me on a personal level the move to America has been f*****g amazing."
"The budgets are bigger, the stunts are more dangerous and the sexual chemistry is more explosive…The audience is going to need a forklift truck to pick their jaws off the ground. The stunt work is unbelievable. I used to do quite a lot of stunts except if it was jumping off of buildings but now I'm not allowed to because of the insurance policy. I'm much more valuable in America!"
All of that running around in a heavy greatcoat in the LA sun must cause unsightly sweat-patches, right John? Not a bit of it. Captain Jack's new coat is more lightweight, to counter this very problem, and has been given a "slimmer cut," possibly for glamour reasons.
Speaking of which, has the good Captain's amorous nature had to be toned down at all? Seems not.
John explained: "Jack will have his little dabblings and the audience will get exactly what they want…And I had a lot of fun doing it!"
Now why doesn't THAT surprise us?
Torchwood or Doctor Who, which is the more exciting a prospect? Tell us here.
Read More
Filed Under: