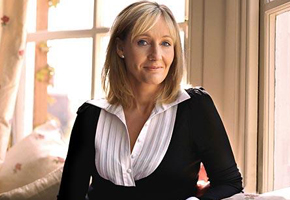 While we assume that most Harry Potter devotees are perfectly content with their well-loved hardcover collections, it sounds like JK Rowling might allow her prized series to go digital. That means you could lose yourself in your favorite Harry Potter story via an iPad or Kindle.
Scotland's Daily Record reports that while the Scottish author has steadily avoided the eBook format for several years, it's "now something that is being actively considered." Rowling could likely earn more than $162 million (£100 million) should she decide to go that route.
"We are continuing with our evaluation of all options relating to Harry Potter eBooks," said Rowling's agent, lawyer Neil Blair.
Professor Claire Squires, the director of Stirling University's Center for International Publishing and Communication added that such a move would be just as pivotal as the The Beatles teaming up with iTunes.
Squires explained: "The rights to the eBooks would be worth millions of pounds. It is akin to the Beatles allowing their music to be launched on iTunes — it really is that important."
"JK Rowling has been very protective of her novels, and rightly so, but this signals a real sea change in her attitudes," Squires added.
Read More
Filed Under: