• There's a new BBC interview with Steven Moffat, in which he says this (among other things) about how the story of the Doctor evolves in the new series: "The big difference, I suppose, is how long the Doctor is hanging around in the lives of his Companions. His normal MO is get them while they're young, and leave them while they're young too. He's careful to put them back where he found them, before he screws up their lives. But here he is, married couple on board — and much as he loves them both, he does wonder if it isn't time he got out of the way. Before something really BAD happens."
• Speaking of the new season, this past weekend, Nerdist host Chris Hardwick moderated a Wondercon panel featuring Doctor Who director Toby Haynes, guest star Mark Sheppard, and novelist Neil Gaiman, who has written the new season's fourth episode. The full video of the panel — all 41 glorious minutes — has been posted to YouTube. Check it out:
• Mark Sheppard, who plays the elegantly named Canton Everett Delaware III in the season premiere, teases the new season: "Steven is going to be responsible for a lot of childrens' sleepless nights, I think, and adults' sleepless nights. But what an experience, what an amazing experience."
• SPUMOR: will a major character depart the series in the first episode? (Airlock Alpha)
• In this new interview with the BBC, Matt Smith still says he feels like "the new boy" in the series:
http://www.youtube.com/watch?v=T8LVLQo12GM
• At the launch event for the new series, held last night (April 4) at London's Olympia, Alex Kingston and Steven Moffat were trying to explain the concept behind the new monsters, known as The Silence.
Stephen said: "The idea is that we've been surrounded by these things throughout history — not really, just in Doctor Who — and they've appeared in paintings and other things."
Alex added: "They look like Edvard Munch's 'The Scream'."
And so will we, afterwards. (via Transworldnews)
• SPOILER ALERT: Amy Pond on a motorbike. (The Sun)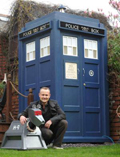 • This is pretty awesome: John Williams, a Doctor Who fan from Newport, South Wales, has spent eight months and more than £700 building  his own "Garden TARDIS" in his backyard, The South Wales Argus reports. The replica will stand "alongside his model of the Doctor's trusty companion K9 which he made about four years ago after being inspired when Doctor Who was filmed at his daughters' school Duffryn High." Apparently, Mr. Williams will use his TARDIS to "store garden furniture" instead of journeying through space and time.
• For Record Store Day on April 16, the Silva Screen label has issued two 7″ vinyl releases of 1960s Doctor Who film soundtracks, Dr. Who And The Daleks and Daleks' Invasion Earth 2150. The two films, which were released in 1964 and 1966, respectively, starred Peter Cushing and were based on stories from the original television series.
• And how about some Whovian tweets? (Sounds like something Elmer Fudd would say.) After last night's press launch, rumors about the Doctor are unavoidable, says Steven Moffat himself:
steven_moffat: Okay, from tonight, spoilers everywhere. Duck, it's the only way.
Neil Gaiman had praise for one write-up of what he said:
neilhimself: Ah! Someone accurately transcribes what I said on my panel re: EVERYTHING YOU NEED TO KNOW BEFORE WATCHING #DOCTORWHO http://bit.ly/ghTcMZ
neilhimself: No, no spoilers in that at all. It's my response to what you tell people concerned about stepping in to 47 years of mythology & continuity.
And Mark Gatiss offered this:
Markgatiss: 'Doctor Who's new opening two parter is 127 kinds of wonderful. Epic, cinematic, thrilling, funny and TERRIFYING. Do enjoy.
Read More
Filed Under: