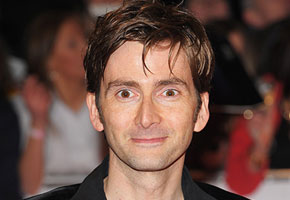 Y'know that Doctor Who episode where Peter "The Doctor" Davison's daughter Georgia Moffett plays David "The Doctor" Tennant's daughter? And y'know how it all subsequently went a little weird (depending on how real the Who-niverse seems to you personally) because David and Georgia then started dating in real life, with the blessing of Peter, and went on to announce their engagement?
Well things have got even weirder now, but in the most delightful way possible.
A source says, that last night (March 31), Georgia gave birth to the couple's first child — a daughter called Olivia.
A friend of the pair told Metro: "Georgia and David could not be happier, Olivia is beautiful and their families are over the moon."
The couple only begrudgingly confirmed that Georgia was pregnant in January, having decided to try and keep their family life as private as possible.
The Mail's source continued: "They did very well in keeping everything very nearly private and keeping things under wraps. Georgia was a lot more pregnant than people thought when the news first broke."
The temptation to crack a gag about Time Lords doing everything unexpectedly quickly is almost overwhelming, but maybe it's better just to congratulate everyone concerned — Dad, Mum, Grandad and Olivia herself — and let them get on with it.
Read More
Filed Under: