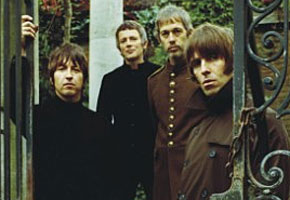 It's a nerve-wracking time for gossip enthusiasts, April 1st. Out there, minds immeasurably inferior to our own are attempting to have a little fun with the April Fool's Day tradition by coming up with silly stories that could possibly be true — it's a silly world, after all — but, and this is the important bit, are not.
The trick is to make your story exciting, so that people are engaged by it, but not so preposterous that they will smell a rat before you've even got to the punchline.
Here's a perfect example: the NME are running a story that Liam Gallagher's new group Beady Eye will be recording a version of Blur's hit song "Country House" for a special limited edition 7″ single, of which 3,000 copies will be sold at £50 each. They also claim that this will bury the hatchet between Liam and Blur's Damon Albarn, after his group beat Oasis to the UK No.1 with that same song, way back in 1996.
Now it would be momentous if this happened, bearing in mind the years of animosity between the two singers. It hasn't happened, of course. Let's not get carried away.
They even have a 'quote' from Liam, saying, well, things that Liam would never say. Like this: "The chart battle was only a bit of a f***ing laugh and secretly "Country House" was always my favorite Blur song. Especially the bit in the video where Alex James rides the pig."
See what I mean? Preposterous. After all, everybody knows that the best Blur song is "Beetlebum."
What's your favorite April Fool's prank? Tell us here.
Read More
Filed Under: