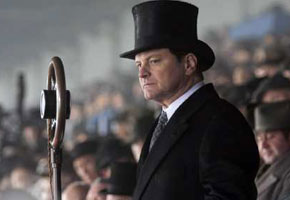 Having scooped the Best Actor prize at this year's Golden Globes, BAFTAs, and Academy Awards, all eyes are truly on Colin Firth right now. And rumor has it that one individual in particular may have her sights set on bestowing Firth with a very special honor.
The Daily Mail reports that Queen Elizabeth may possibly award Firth with a knighthood title for his brilliant portrayal of King George VI in The King's Speech. Previously, the Queen let it be known that she was "moved" by Tom Hooper's historical period film showcasing her father's stuttering issues.
Nominees for Her Majesty's annual Birthday Honors list have been selected, with the 50-year-old English actor apparently making the cut. It's now up to a Cabinet Office committee to determine whether or not Firth deserves to be called "Sir." All recipients are slated to be unveiled in June.
"Colin has been a great ambassador for Britain throughout his career and his sensitive portrayal of King George VI has won him much admiration among the Royal Family – and, of course, the film's many fans," an insider revealed.
Here's hoping Firth fares better than Simon Cowell did with the Queen's most recent New Year Honors list.
Do you think Colin Firth deserves to be knighted?
Read More
Filed Under: