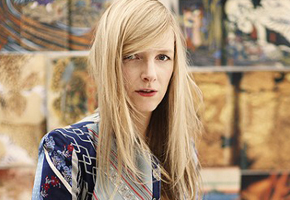 If speculation about who will design Kate Middleton's wedding dress is already at fever pitch, could the atmosphere in the fashion world possibly become any more febrile? The answer is undoubtedly yes. The intrigue has some way to go yet. With Clarence House giving nothing away, we won't know for sure who Kate is wearing until she walks up the aisle. The rumor mill is in overdrive now that a British newspaper has reported that Alexander McQueen's fashion house is designing the gown – something the label has emphatically denied.
Sarah Burton, protégée of the late Alexander McQueen, unveiled her "Ice Queen" collection in Paris on Tuesday (March 8). If, despite the ritual denials, Burton is the designer, what clues do the collection give as to her signature style and the choices she could make for Kate? Beads and feathers adorned long, romantic white dresses, and high neck lines were a feature, something which Kate is likely to adopt. The dress with the bodice of chipped porcelain seems an unlikely choice – rather radical for a royal, and probably a bit uncomfortable for a long day's social whirl centered around London's landmarks, including Westminster Abbey and Buckingham Palace.
If Kate has chosen Burton to design the dress that will define the world's image of her, it's a bold, fashion-conscious choice which marks a departure from the elegant but restrained style which has been her hallmark so far. But the fashion world is now royally confused about whether she is or isn't the designer. As The Guardian newspaper reported, Burton's McQueen show in Paris "fanned the rumors that she has landed the fashion commission of the century – while simultaneously raising serious questions around the story."
Other designers who have been tipped to design the gown include Daniella Issa Helayel, who made Kate's much-imitated sapphire blue engagement dress. The consensus though is that Kate will showcase a British designer — and Issa is a native of Brazil, though based in London. The sentimental money is on Bruce Oldfield, a favorite of Diana, Princess of Wales. You can easily imagine his glamorous, fitted wedding dresses on Kate: like Prince William's bride-to-be, Oldfield avoids fuss for flattering necklines. Kate's mother and sister were spotted leaving Oldfield's store, so if not Kate herself, perhaps someone in the Middleton family will be fitted out by him on the day.
The designer Phillipa Lepley was an early favorite with the bookmakers; her luxurious, embellished gowns are sought after by celebrities. Then there's a whole host of other British designers too – Stella McCartney, Phoebe Philo, and Alice Temperley, to name but a few. The guessing game and the swirling, often contradictory rumors will continue until the world catches its first glimpse of the royal bride – and a designer becomes world famous in an instant.
Laura Trevelyan is a BBC correspondent based in New York.
Read More
Filed Under: