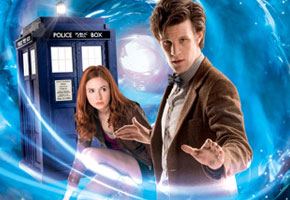 Gather round, all you Whovians out there. From now on, Tuesdays are Who's Days 'round these parts. That means that every Tuesday, we'll be posting the assorted Who-related bits and bobs we've found on the Web.
But we'd love your help in this project: if you see any news, awesome YouTube videos, or cool fan art related to any era of Doctor Who, tip us at anglophenia@bbc.com. We'll make sure to credit you for your contribution. On to this week's items…
Doctor Who comic books will now be available on iPhone, iTouch, iPad, and Sony PSP, thanks to BBC Worldwide America and IDW Publishing. The companies have joined forces to produce the new apps. (Click here to buy via the Mac Apps Store.) Jeff Webber, director of e-publishing for IDW, says, "[I]t's just awesomely fun to build an app that keeps the look and feel of something that could be a part of the Tardis itself. It's just possible that the app might start pulling in comics from the future that haven't even been created yet!" (via Airlock Alpha)
A fan who claims to have imagined the character of Davros, the mastermind of the treacherous Daleks, is suing the BBC for breach of copyright, according to The Daily Mail.
BBC Books are reissuing six of the classic old Doctor Who novels, which, in the UK at least, were always published by Target. The six, including classic adventures like The Abominable Snowmen, come complete with introductions by the likes of Russell T Davies, Neil Gaiman, and The Fast Show's Charlie Higson (via SFX).
Tom Baker, Louise Jamieson, and Mary Tamm — a.k.a. the Fourth Doctor, Leela, and Romana — have agreed to star in a new series of Doctor Who audio plays, which will form part of a collection called Doctor Who: The Lost Stories – The Fourth Doctor Box Set. (via Digital Spy).
We've already seen the Doctor Who mini-episode "Time," which premiered during the BBC's Red Nose Day program. But check out Matt Smith's live arrival as the Doctor during Friday's (March 18) Comic Relief program, which finds him bantering saucily with co-presenters Jonathan Ross and Claudia Winkleman.
Doctor Who's Season Five opening credits, done Buffy the Vampire Slayer-style? Fierce.
Here's an earlier Who/Buffy mash-up, this one featuring the Tenth Doctor (David Tennant) and his various companions:
Fraser McAlpine contributed to this post.
Read More
Filed Under: