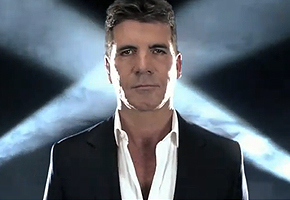 For UK residents, it's traditional around this time of year for news stories to fly around which suggest that this winter's series of The X Factor is in some way under threat. It's happened before, it'll happen again.
But this year, with the launch of an American version of the show on Fox — which will differ from American Idol because…er, well we'll get back to you on that — the rumors have been particularly strong and sticky. So much so that Simon Cowell has stepped in to personally reassure everyone that everything is going to be OK.
He told Piers Morgan, on his CNN chat show: "On The X Factor I often got to the place where I felt like jumping off a bridge — because I think the whole show is a disaster, it's not going to work and it's depressing."
See? Reassuring. Oh wait, there's more: "If you don't have the fear that it's going to go wrong, you're going to get complacent, you're going to lose your edge, your sharpness. So I like the team to feel like me which is that it could go horribly wrong."
So his team will no doubt be thrilled to read about the hectic negotiations going on in the UK as to whether there will even be an X Factor this year.
Multiple press reports suggest that Simon is waiting to confirm his US panel of judges — possibly including Jessica Simpson, Paula Abdul, Nicole Scherzinger and Cheryl Cole — before confirming his UK panel of judges — possibly including Lily Allen, Dannii Minogue, Nicole Scherzinger and Cheryl Cole.
Auditions for the UK show begin in seven weeks, and no one is even sure if Simon will be among the judges, if the show goes ahead.
Which, according to the great man's self-confessedly unique working methods, can only mean 2011 is going to bear witness to the best X Factor ever. Or an appalling transatlantic shambles, one of the two.
Are you looking forward to the American X Factor? Tell us here.
Read More
Filed Under: