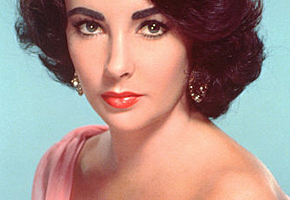 As the tributes come pouring in to one of the last Grande Dames of Hollywood, it seems a perfect time to take a look over some of the highlights of what is, by anyone's reckoning, an astonishing career. From child-stardom, through blockbuster glory, to her grand finale as one of Hollywood's all-time greats, and a major fund-raiser in the fight against HIV and AIDS, Elizabeth Taylor was never anything less than totally captivating.
In fact, as her two-time husband Richard Burton was to memorably put it in his memoir Meeting Mrs Jenkins: "She was unquestionably gorgeous. I can think of no other word to describe a combination of plenitude, frugality, abundance, tightness. She was lavish. She was a dark unyielding largesse. She was, in short, too bloody much."
So, in tribute, here are some of our personal favorite Elizabeth Taylor moments: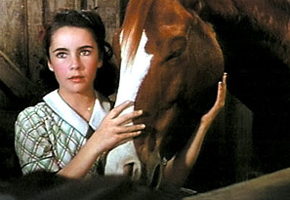 National Velvet (1944)
Essentially the story of a young girl and an ornery horse, what brings people back to this film again and again is the beautiful relationship between Elizabeth's Velvet Brown and Mickey Rooney's Mi Taylor. Well that and the astonishing technicolor glow of her violet eyes, which burn out of that young face like stars on a dark night. – FM
A Place in the Sun (1951)
This film solidified Liz as the most beautiful movie star on the planet, and she's yet to be eclipsed. You hardly remember the seediness of the story: poor working Joe (Montgomery Clift) "accidentally" kills his plain, overweight nag of a wife (Shelley Winters, of course) to land a wealthy stunner (Liz). All you recall is Taylor's smoldering chemistry with Clift — they're the second-hottest screen couple ever. (We'll get to THE hottest in a sec.) – Kevin Wicks
Cleopatra (1963)
Even if this film was awful, the back-story of the sudden and all-encompassing chemistry between the two leads — Elizabeth as Cleopatra, Richard Burton as Mark Anthony — would be enough to give it legendary status. Luckily, all of that heat went into the proud, bickering, besotted characters, which made this huge historical epic feel all the bigger. – FM
Who's Afraid Of Virginia Woolf (1966)
Generations of teenagers studying literature have been traumatized by this film. It's largely one long row between a professor and his wife, in front of a young couple. That the professor role was filled by Richard Burton, with whom she had one of the stormiest relationships since records began, only added fuel to what would already have been a preposterously fiery performance. I mean LOOK at them go at it! – FM
Cat on a Hot Tin Roof (1958) and Suddenly Last Summer (1959)
Tennessee Williams loved his sex and psychosis, and Elizabeth Taylor would have seemed an unlikely heroine for his works. But Liz brought the sexy opposite Paul Newman as Maggie the Cat in the adaptation of Cat on a Hot Tin Roof (hottest couple ever) and brought the crazy in Suddenly Last Summer, especially in her much-mocked final monologue, which finds her institutionalized character recalling the brutal killing of her gay cousin. Her scenery-devouring may be uncomfortable, but it's also electrifying. – KW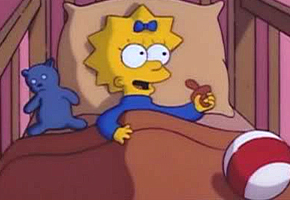 The Simpsons (1992)
OK, a controversial choice, but not a disrespectful one. The Simpsons is arguably the finest television series of the past 30 years — sorry, Wire fans, apologies to West Wing devotees, and you Office aficionados can just shush. Homer beats all — and to be offered the chance to voice one of the five members of the Simpson family is not a job for just anyone. So when the writers came up with a story about baby Maggie saying her first word, they asked Elizabeth to make a cameo appearance. Cometh the hour, cometh the star, and a lovely final scene where baby Maggie finally says "daddy" after Homer has already tucked her in for the night and left the room. Beautiful. – FM
What's your favorite Elizabeth Taylor performance? Tell us here.
Read More
Filed Under: