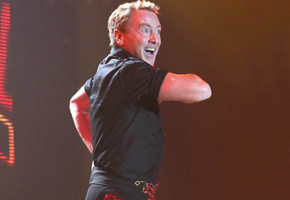 World-famous Irish-American step dancer Michael Flatley is clearly looking forward to the impending royal nuptials on April 29 between Prince William and Kate Middleton. In a message to the royal couple he says, "It's a wonderful day, and we're all praying for you, and may it last forever."
Flatley offered his regal greetings to Anglophenia while he was in the midst of a series of press interviews to publicize the St. Patrick's Day release of a 3D version of his Irish dance extravaganza Lord of the Dance.
Tom Brook's reports on cinema can be seen every Tuesday and Thursday morning on BBC America.
Read More
Filed Under: