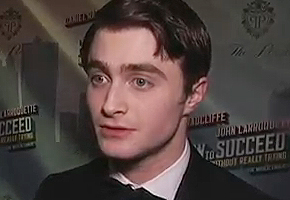 Last night (March 27), Daniel Radcliffe made his much awaited debut in a Broadway musical when he sang and danced his way through a revival of the 1961 show, How to Succeed in Business Without Really Trying.
Radcliffe has the lead role, playing J. Pierrrepont Finch, an ambitious corporate climber.
So how did he do? Well the New York Times's Ben Brantley, arguably America's most influential theatre critic, wrote that, "while Mr. Radcliffe is clearly not to the musical manner born, I would give him, oh a 6 out of 10."
But the verdict from some of the big names attending opening night was very positive. Musical theatre legend Liza Minnelli enthused: "That kid can dance. He's a really good performer, and you buy him completely as this character."
As for Radcliffe himself he told me he really wanted to take on the triple challenge of dancing, singing – and speaking in an American accent, because there's no point in doing anything by halves.
Radcliffe first appeared on Broadway in a revival of the Peter Shaffer play, Equus, in 2008 which generated a lot of press because he appeared naked on stage.
What some people are now asking is will his Broadway performance in a big musical prove once and for all that he can forge an acting career away from the Harry Potter franchise – or will he still remain typecast as the boy wizard. Many see his move into musical theater is a strategic career move to redefine himself but Radcliffe maintains it's not part of a master plan.
Read More
Filed Under: