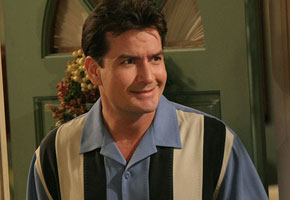 Forget John Stamos. Rob Lowe? Hell no. When considering actors to replace the recently terminated Charlie Sheen on the CBS cash cow Two And a Half Men, why not go Brit? In our current British Invasion of U.S. television, Hollywood could choose from hordes of willing and waiting UK actors to fill his spot. And some of them actually might make Men a show worth watching.
Here are a few of our suggestions:
Ricky Gervais
This might be a little out-there, but I could see it working in a twisted way. Gervais with his facetious stance, openly mocking the pedestrian lines and canned comic scenarios — just watching Gervais's facial expressions would be "can't miss" telly.
Stephen Mangan
He's currently on Showtime's comedy Episodes, but this guy is tailor-made for major U.S. sitcom stardom. He even resembles a slew of famous American funnymen (he's like Jerry Seinfeld and Ben Stiller in a genetic blender). And he already proved he could pull off the whole oversexed hedonist persona as Guy on the British medical comedy Green Wing.
Sir Michael Gambon
OK, so he's really an Irishman, and he's best-known for playing period roles. But the Emmy-winning acting vet is gut-bustingly hilarious: when Sir Michael recently appeared on BBC America's Top Gear, he put on an clinic in deadpan comic timing. Cast him as Charlie and Alan's long-lost uncle from Surrey.
Dylan Moran
Also an Irishman, this renowned stand-up comic made his name as a Boozy McCrankypants book store owner on the British sitcom Black Books. His acerbic, bitter wit would add a funny/cruel sting to the bland antics on Men.
James Corden
As Smithy on Gavin & Stacey, Corden perfected the fine art of playing second banana to a straight man. But someone please let this guy take the lead for once. His goofy, "guy's guy" charm would endear American audiences. Screw it: just replace the whole Two and a Half Men cast with the ensemble from Gavin & Stacey. (Except keep Holland Taylor to face off with Alison Steadman. Diva delish.)
Russell Brand
Duh! The straggly-haired comedian, who notoriously burned the candle at both ends for years, was born to play the role. (Charlie Sheen reportedly likes the guy, and the feeling is apparently mutual.) Brand would never give up a booming film career for a sitcom, but if he has the cojones to replace the late legend Dudley Moore in Arthur, taking over for Sheen should be a cakewalk.
Which UK-based funnyman who you offer to replace Charlie Sheen on Two and a Half Men?
Read More
Filed Under: