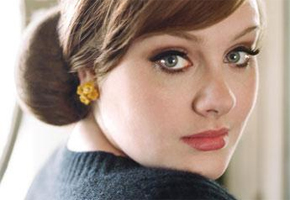 Never let it be said that one powerful performance can't have an impact in this internet era. You remember a few weeks ago we were talking about Adele's astonishing turn at the Brit Awards, and how she essentially brought the whole ceremony grinding to a halt just by singing "Someone Like You" really, really well?
Well, she's been at No. 1 in the charts ever since. That's three weeks. In that time, Lady Gaga has returned, frisky new video in hand, and demanded everyone pay attention as she half-distractedly struts around in her underwear, singing over an old Madonna song while trotting out such astonishing B-movie sci-fi dialogue as "and thus began the beginning of a new race…" and "but the birth was not finite…it was…INfinite." All to no avail.
Meanwhile, Jessie J – the year's hottest new talent and awards hoover – has been maintaining the pressure at the top end of the Top 10 to such an impressive degree that she's even managed to fend off Lady Gaga too. And such is the musical density near the epicenter of the charts – sorry, Professor Brian Cox has just launched Wonders of the Universe over here, I'm all gravity this and magnetic field that – that there is barely anything else going on.
In fact, you have to go down as far as No. 22 to find a new entry, and that's 'Rope' by the Foo Fighters. And let's be honest, the Foofs are many things, but chart-toppers is not one of them. No. 22 is probably their peak.
So, let's draw a discreet veil over this week's chart, shall we? It's a huge triumph of substance over style, sure, but not exactly breaking news.
Singles released in the UK this week:
Black Eyed Peas – "Just Can't Get Enough"
James Blake – "The Wilhelm Scream"
Cherry Ghost – "Only A Mother Could"
Alex Clare – "Too Close"
Cloud Control – "There's Nothing In The Water We Can't Fight"
Emma's Imagination – "Brighter, Greener"
Good Charlotte – "Sex On The Radio EP"
The Hoosiers – "Bumpy Ride"
Michael Jackson – "Hollywood Tonight"
Elton John & Leon Russell – "I Should Have Sent Roses"
k.d. lang – "I Confess"
Wiz Khalifa – 'Black And Yellow"
Sean Kingston – "Party All Night"
Avril Lavigne – "What The Hell"
Maverick Sabre – "Look What I Done"
McFly – "That's The Truth"
The Naked And Famous – "Young Blood"
Papercuts – "Do What You Will"
Plan B – "Writing's On The Wall"
The Primitives – "Rattle My Cage"
R.E.M. – "Uberlin"
Rival Schools – "Wring It Out"
Willow Smith – "21st Century Girl"
Swimming – "Sun In The Island"
Tinie Tempah ft. Ellie Goulding – "Wonderman"
The View – "Grace"
Wonderland – "Not A Love Song"
For the rest of this week's chart, Radio 1 has the full rundown.
Is Adele the antidote to Gaga-mania? Tell us your thoughts.
Read More
Filed Under: