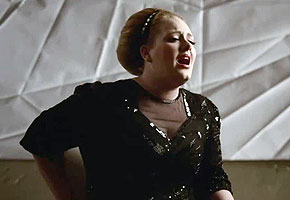 This week's chart once again proves a simple truth. That if you allow Adele to appear on your television show singing "Someone Like You," then that song will immediately rise to the top of the charts.
It would not matter if you had a super jam session between Madonna, Lady Gaga, the Black Eyed Peas and Rihanna, produced by David Guetta, and with guest appearances from Jay-Z, Eminem and Drake*, so long as someone somewhere is pointing a camera at Adele and she is singing that song, it's going to go to No. 1.
And that is what it has done, off the back of the BBC's Red Nose Day telethon. We've been here before, we will probably be here again.
Elsewhere in the chart, the after-effects of Red Nose Day are still being felt. The Wanted have dropped down to No.4 with "Gold Forever," and the comedian Peter Kay's duet with Susan Boyle on the old Chess — the musical, not the record label — ballad "I Know Him So Well" is now at No. 11.
Apart from that, it's a chart where most of the songs are dropping down a bit, apart from those peddled by veteran hip hoppers. You've got your Dr. Dre creeping up to No. 1 with "I Need a Doctor," his old mate Snoop Dogg at No. 12 with "Sweat," Kanye West leaping up 13 places to No. 19 with "All of the Lights" and the Black Eyed Peas clearing a slightly smaller, but more impressive hurdle from No. 15 to No. 3 with "Just Can't Get Enough."
Oh, and Noah and the Whale's spelling bee song "L.I.F.E.G.O.E.S.O.N." has popped up six places to No. 14, which just goes to show that people do like a little bit of education in their pop music.
Here's the video:
* It would matter to people with ears, of course. It would matter a LOT.
For the rest of this week's chart, Radio 1 has the full rundown.
What's your favorite spelled out pop song? Tell us here.
Read More
Filed Under: