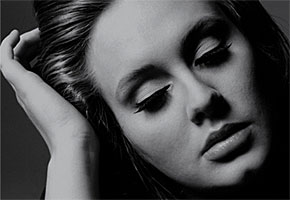 Last week, it was a matter of public marvel that Adele was still at No. 1 with "Someone Like You," a month after she used it to bring the Brit Awards crashing to a halt. This week, she's still there, but there's an extra twist to proceedings. Remember we mentioned Jessie J and Rihanna holding Lady Gaga back? Well they're STILL doing it. Which means the entire Top 4 is static.
In fact, it's only the sudden appearance of Wiz Khalifa's "Black and Yellow" at No. 5 that prevents the assumption that no one bothered to count up last week's sales. Is it possible for there to be a record for the longest held Top 4 in a chart, and for that record to be longer than a week? Cos I think we've got a contender here. Granted it's not a very exciting record to hold, so maybe there won't be a very big trophy when the results come in, but still, unusual, eh?
Here's Wiz, who needs to just sit where he is for a bit if he wants to be in on this attempt:
Elsewhere in the chart, it's all about the stealthy approach at the moment. Britney Spears ("Til The World Ends" – No. 21) and Olly Murs ('Heart On My Sleeve' – No.21) are sneaking their way up, with the Black Eyed Peas following behind at No. 27. And way down at No. 35, there's McFly, who've spent four weeks climbing up to No.35 with "That's The Truth," the third single "Above The Noise" from their R&B-influenced fifth album.
Which just leaves one final hit song to be explained. Jasmine Van den Bogaerde — the great niece of the actor Dirk Bogarde — is a very young singer and pianist who goes by the name of Birdy. She first came to public attention as part of a talent contest called UK Idol, which she won in 2008, at the age of 12. This lead to a publishing deal, and a record deal, and a classical performance as part of BBC Radio 3's Pianothon, and now she's put out a cover version of the Bon Iver song 'Skinny Love'.
This has received a lot of support from Radio 1's Fearne Cotton, and as a result, enters the chart at No. 25.
She is, as any mathematician can tell you, only 14 (going on 15). We've found a new Charlotte Church, everyone!
For the rest of this week's chart, Radio 1 has the full rundown.
Child prodigies: amazing or disturbing? Tell us your thoughts.
Read More
Filed Under: