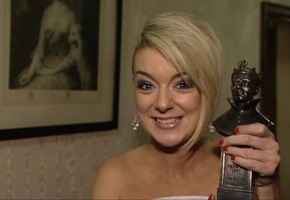 We've been writing at length here at Anglophenia about the British invasion of our cultural scene, but last night in London, Americans led a successful counterattack on British soil, with a series of impressive victories at the Olivier Awards, the UK's rough equivalent to Broadway's Tonys.
Among the big Yankee winners: Legally Blonde – the Musical danced away with the award for best new musical; and Clybourne Park won for best new play.  Both plays were written by Americans and performed in the U.S. before their London runs. And even though Clybourne Park sounds like it's set in an aristocratic British estate, it in fact takes place in a neighborhood of Chicago.
Legally Blonde also picked up two other major awards — best actress in a musical for its star Sheridan Smith and best supporting actress in a musical for Jill Halfpenny. Many observers pointed out that the American import beat out perennial hometown favorite Andrew Lloyd Webber's sequel to The Phantom of the Opera, Love Never Dies, which didn't win a single Olivier, despite having been nominated for seven.
American Stephen Sondheim won a special award for contributions to the London theater.
And Barry Manilow sang at the awards ceremony itself.
That's not to say that Brits didn't win significant awards. Terrence Rattigan's After the Dance won best revival, as well as three other awards.
But last night's big wins for Legally Blonde led Slate columnist Tom Scocca to quip: "When Will Great Britain Develop a Culture of Its Own?" He also pointed out that when Ghost: the Musical opens this June in London, "the city where Shakespeare reshaped the possibilities of drama and language" will have two musicals based on Patrick Swayze movies running at the same time.
Some British commentators, however, focused more on the financial aspects of London theater.  BBC arts editor Will Gompertz said it was a good night for subsidized theater, that is, theaters that receive government support, like the National Theatre, which won seven Oliviers.
The Guardian's Michael Billington agreed, but pointed out that the Oliviers were originally created in 1976 to celebrate commercial, or West End, theater. Last night's awards trend, he wrote, "just proves how much of the power and energy has shifted away from the West End."
Yet Britain's subsidized theater is facing what Billington terms "insane" budget cuts, an issue which Gompertz said cast a "looming threat" over the evening.
"By all means let's celebrate the Oliviers," writes Billington. "But they might be a last hurrah before the cuts start to bite."
For a complete list of the 2011 Olivier awards from Backstage magazine, click here.
Read More
Filed Under: