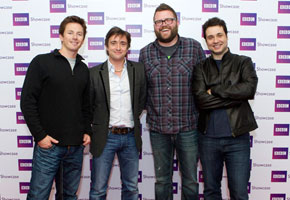 After a star-studded kickoff, BBC Showcase really revved up in its second day. I'm told that the guys from the American Top Gear — Tanner Foust, Adam Ferrara, and Rutledge Wood — were joined by UK Top Gear presenter Richard Hammond for the big gala dinner on Monday night (February 28).
"The event was perfect for gearheads," reports my mole. "It included cheerleaders, the Top Gear video game, a play room for virtual race cars (when I checked in, Tanner had the fastest time on the virtual course), and even a mechanical bull.
"The Top Gear U.S. men were in top form, enjoying themselves by learning some British slang." Rutledge apparently learned a very rude word that can't be repeated here.
I know, I know…without photos, it didn't happen, right? I'm workin' on it, people. I'm workin' on it.
UPDATE: I am a man of my word. Some photos from the Top Gear Showcase event:
Read More
Filed Under: