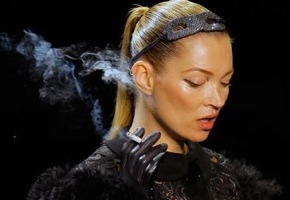 What's lighting up interest on Twitter in the UK today? There's little argument that Kate Moss is smoking hot. But Kate Moss, just plain smoking? That's much more controversial.
Kate Moss
For the first time in years, the famed British model took to the catwalk for Louis Vuitton at Paris Fashion Week, wearing tight black hot pants and bondage-style boots in a fetish-themed show. But what's ignited just as much interest was that the fashion icon lit up a cigarette on the runway — on No Smoking Day.
"The moment Kate Moss sashayed across the room in hot pants and high heels, puffing on a cigarette, there was no longer any doubt who the star of this show was," writes Jess Cartner-Morley in the Guardian. "There's only one thing the world loves more than a beautiful girl, and that's a beautiful girl who's a little bit bad. Therein lies the secret of the enduring appeal of Kate Moss."
"In 2011," Cartner-Morley observes, "smoking in public is borderline transgressive."
@Pollittposts: Kate Moss celebrates No Smoking Day, Ash Wednesday, International Women's Week, Plain Packet Cigarette Day etc etc
@DrRanj: i don't know if she did it for effect or just out of pure ignorance… either way it should not have been done.
@JonathanHaynes: Kate Moss manages to make smoking look very uncool on the Paris catwalk
@nil_i_am: Kate Moss at Louis Vuitton with a cigarette, yet another #modelcitizen. Provocative shot though.
If you think the Kate Moss smoking affair is a tempest in an ashtray, you might prefer the outlook of some other Kate Moss-themed tweets – they involve a collaboration between the supermodel and the BBC's very own Misery Bear.
@ianthehylton: Dont let Kate Moss hurt Misery Bear! give money to comic relief http://www.bbc.co.uk/rednoseday/
Take a look:
Read More
Filed Under: