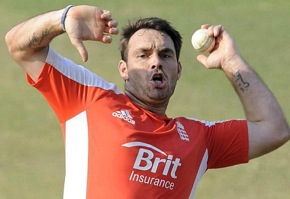 Cricketer Michael Yardy is trending on Twitter in the UK today because he's withdrawn from competition in the 2011 Cricket World Cup for medical reasons. But it's not a typical sports injury that's taking him out of play. He withdrew, he said, because he's suffering from depression.
It's brought him a wealth of support from fans, who have also defended him from criticism by one prominent former cricketer.
In an announcement posted on the England and Wales Cricket Board's website, Yardy said: "Leaving at this stage of a World Cup campaign was a very difficult decision to make but I felt that it was the only sensible option for me and I wanted to be honest about the reason behind that decision."
In the statement, Yardy also added: "I would appreciate some privacy over the coming weeks while I spend time with family and close friends ahead of what I hope will be a successful season for Sussex."
Yardy has already received much support from the cricket world, with the notable exception of former batsman and current commentator Geoffrey Boycott.
"I'm surprised, very surprised," Boycott told the BBC's 5 Live Breakfast Show. "But he must have been reading my comments about his bowling, it must have upset him."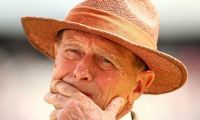 Boycott continued: "Obviously it was too much for him at this level. If any blame is attached it's partly to the selectors, because I'm sorry, he's not good enough at this level."
Later in the program, Boycott changed his tone somewhat, and, after a firestorm of criticism appeared to backtrack a little bit in a subsequent interview.
"It's obviously very sad," he later told Radio 4's Today program. "But I'm not a medical man, so I can't tell you what it's like to be depressed. I've been lucky, I've been good enough … until you've had depression I don't think you're qualified to talk about it."
Here's a sample of how it's playing out on Twitter:
Pearcesport: Michael Yardy says he wanted to be open and admit that depression was reason for his return from World Cup. Admirable honesty
campbellclaret: Enlightened statement from employer re Michael Yardy http://www.sussexcricket.co.uk/news/2665/michael–yardy/ #timetochange
krimpers: Stay strong Michael Yardy ..
runlikeforrest: Massive respect to Michael Yardy. Takes big cahunas to be open and honest and help fight the stigma attached to a devastating illness
AndrewRileySJ: huge respect to michael yardy for having the courage to be open about his depression, takes a big person to face demons, has my respect
AldenCounseling: Michael Vaughan on Michael Yardy's depression: It can never be an easy decision to leave a World Cup, so Michael… http://bit.ly/ehUyHy
DailyNewsTicker: Robinson praise for Yardy – Sussex cricket manager Mark Robinson has praised Michael Yardy for his honesty and coura… http://ow.ly/1bUY0W
Adam_Noone: Michael Yardy sent home from the World Cup suffering from depression. Now he knows how we feel watching him bowl.
red_leicester: Michael Yardy returns home depressed, Geoff Boycott says: "He wasn't good enough to be there in the first place."
bboyblue: Not surprised that Geoff Boycott doesn't understand that depression is a mental illness rather than just feeling a bit sorry for yourself.
rmt_1982: @testmatchsofa Geoff Boycott depresses me. Does that make me a weakling?
bbcdaggers: Have interviewed Matthew Hoggard re:mike yardy. He too has had to deal with depression while touring. He talks brilliantly about it…
bbcdaggers: Hoggard on England players "they'll be backing him (yardy) sport has grown up over the last few years about mental illnesses…."
Read More
Filed Under: