What's trending on Twitter in the UK today? The death of a reggae star and a broken clock.
Smiley Culture
British reggae star Smiley Culture died during a police raid of his home in Surrey today.
The 48-year-old musician, whose real name was David Emmanuel, was most well-known for his hits of the 1980's, including "Police Officer" and "Cockney Translation."
The government's Independent Police Complaints Commission has already opened an investigation into Emmanuel's death, which a Metropolitan police spokesman said occurred while officers were serving an arrest warrant.
The Guardian reported that the singer's death appeared to be from a stab wound, while The Press Association, citing unnamed sources, reported that the wound was self-inflicted.
Emmanuel was charged last September with conspiracy to supply cocaine and was scheduled to stand trial next Monday, according to the BBC.
"'Police Officer' was a true story — the police used to take my weed," he told The Guardian last year. "It was better than being arrested, and I made that into a hit … I was invited to meet the Queen, who said she listened to my records in the palace."
@TimWestwood: R.I.P. Smiley Culture – We had some good times back in the day
@SuspectPackages: Just heard about Smiley Culture passing away today. V sad news, one of the true pioneers of the UK Reggae scene, his music got me into it…
@BlackTheRipper: The feds killed smiley culture and i bet notin appens to da pig dat stabbed him
@thomasbills: Cant believe they got to Smiley Culture http://yhoo.it/dKeB1z this song was a huge hit in our house in the 80s
@shimmetry: Smiley Culture dies from 'self inflicted stab wounds' during a police raid. I have a little trouble believing that, police officer.
Twenty Twelve
Is Twenty Twelve trending because of an embarrassing failure of an Olympic countdown clock in Trafalgar Square, or is it trending because it's the name of a new BBC comedy that aired last night in the UK?
It's surely both reasons, in one of those you-can't-make-this-stuff-up, life-imitates-art scenarios.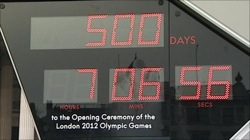 Amidst much hoopla, Swatch yesterday unveiled a large digital clock in Trafalgar Square to count down the 500 days before the 2012 London Olympics.
The only problem was that it stopped cold, at 500 days and 7:06:56.
Coincidentally, last night was also the premiere of a new BBC comedy series, called Twenty Twelve, in which clueless marketers struggle with an Olympic clock that breaks down.
@jackiepearcey: In mockumentary twenty twelve 1,000 day clock turned out to be a dud. Today real 500 day Olympic clock stops working. Love fiction!
@loveandgarbage: hahahahaha The Olympic countdown clock has stopped. hahahaha BBC4's "Twenty twelve" couldn't buy publicity this good.
@rick9525: Watching Twenty Twelve a spoof comedy about the run up to the Olympics. With the clock farce it appears it's very true to life.
Read More
Filed Under: