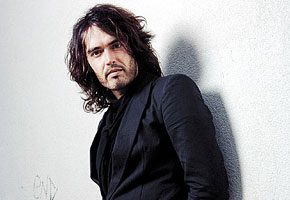 In this week's Tellyvangelist — your weekly guide to all that's British on U.S. TV — watch Russell Brand schmooze with the View ladies, see Pauline Collins vamp it up on Merlin, and check out Robson Green's return to Being Human! All times are in EST and are subject to change.
Monday, March 7
Can a combine harvester equipped with a plow and a flame thrower help resolve Britain's crazy snow issues — and help save its economy? The always noble Top Gear boys attempt to find the answer in tonight's episode. Watch a clip.
Tuesday, March 8
In a recent interview, Dame Helen Mirren offered a reason why ladies love Russell Brand. He genuinely loves them in return! The randy comedian tests out her theory on Tuesday's episode of The View, in which he spills the tea about his upcoming Arthur remake co-starring Dame Helen.
British journalist Tina Brown, the editor-in-chief of The Daily Beast, sits across the table from Charlie Rose tonight.
Wednesday, March 9
British-born actor Roddy McDowall was 38 years old (!) when he played a high school troublemaker in the 1966 satirical cult classic Lord Love a Duck. Catch all the hijinks on TCM at 8 pm. Watch the trailer.
Thursday, March 10
Missed any of the third season of Secret Diary of a Call Girl, the steamy series starring Billie Piper (Doctor Who)? Watch it from the beginning on Showtime starting tonight at 11 pm.
Friday, March 11
The great Pauline Collins, who played Queen Victoria on Doctor Who, brings her regal presence to Syfy's Merlin as the villainous Alice, an old lover of Gaius (Richard Wilson). The episode airs tonight at 10 pm.
Saturday, March 12
The ever-enjoyable Robson Green is back as the werewolf McNair in the latest episode of Being Human, airing tonight at 9 pm.
Sunday, March 13
Brit legends Sir John Gielgud and Harry Andrews and Irishman Richard Todd star alongside Jean Seberg in Otto Preminger's 1957 Joan of Arc saga, Saint Joan. The film, adapted for the screen by Graham Greene, airs Sunday at 10:30 pm.
Read More
Filed Under: