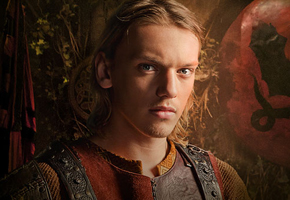 In your guide to what's British on American TV this week, Cat Deeley guest co-hosts Live with Regis & Kelly, and Starz's latest period drama, Camelot, launches, and Sir Elton John does double duty on this weekend's Saturday Night Live. Times are in EST and are subject to change.

Monday, March 28
Russell Brand is ramping up promo for his new comedy Arthur, which hits theaters April 8th. In one of his many appearances this week, he'll join The Tonight Show with Jay Leno this evening. Meanwhile, Sharon Osbourne trades in her daytime perch on The Talk for a late-night chat with Jimmy Kimmel.
Tuesday, March 29
Royal wedding aficionados, take note: BBC America is premiering the Katty Kay-hosted World News America special, Modern Monarchy: Do's & Dont's, at 10 pm this evening. Royal Wedding Insider contributor and BBC News correspondent Laura Trevelyan provides a look at royal etiquette and protocol both within Britain and in other monarchies around the globe.
Wednesday, March 30
Cat Deeley, queen of So You Think You Can Dance and host of BBC America's upcoming reality series Royally Mad, is the guest co-host of Live with Regis & Kelly today.
There's that Russell Brand again, this time on Jimmy Fallon.
On tonight's Law & Order: Special Victims Unit (10 pm on NBC), Oscar winner Jeremy Irons plays a psychologist who is tasked with decoding the meaning of a totem left near a young girl's dead body.
Thursday, March 31
Sir Elton John (ahead of his Saturday Night Live appearance) and Duran Duran are guests on tonight's Jimmy Fallon.
That other Jimmy, Mr. Kimmel, has footballer David Beckham, who is sure to be gushing over his latest project, a fourth child (and first daughter) due this summer with wife Victoria.
Friday, April 1
In a truly bold programming move, Starz is premiering is premiering Camelot, its adult drama about the Arthurian legend, against Syfy's more family-oriented Merlin. The 10-part series Camelot stars Joseph Fiennes as Merlin, Jamie Campbell Bower as King Arthur, Tamsin Egerton as Guinevere, and ex-Bond girl Eva Green as Morgan. Here's a behind-the-scenes look.
Saturday, April 2
Sir Elton John is both the host and musical guest (alongside collaborator Leon Russell) on Saturday Night Live. Good luck to him.
Sunday, April 3
James McAvoy stars as a Scottish doctor opposite the Oscar-winning Forest Whitaker as Ugandan dictator Idi Amin in Kevin Macdonald's The Last King of Scotland, airing at 8:30 pm on IFC.
What will you be watching this week?
Read More
Filed Under: