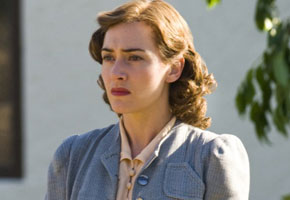 What's British on U.S. TV this week? Top Gear co-host James May heads on an epic road trip to find the world's best wines, Duran Duran try to re-capture their Thatcher-era spark, and Kate Winslet graces the small screen with Mildred Pierce.
Monday, March 21
Top Gear's Captain Slow, James May, and wine expert Oz Clarke hit the road in search of the nectar of the gods in James May's Road Trip, which premieres tonight at 10:20 pm on BBC America. The first leg of their jaunt takes them to the vineyards of France.
Anglophenia fave British Sea Power will make a visit to Late Show with David Letterman, a veritable Plymouth Rock for British bands looking to test their fortunes in the U.S.
Tuesday, March 22
Not content to let the drag-tastic Daniel Craig gather all the glory these days, Clive Owen will take a break from playing Ernest Hemingway for a brief stint on Ellen DeGeneres's couch. Pray that Clive brings his pornstache with him.
Aging glamour-boys Duran Duran hope their fanbase turns out in droves on March 22 to pick up their latest release, All You Need Is Now. (No, actually, all you need is 1982: this album is said to be a throwback to their hairspray-fueled "Rio" heyday.) Simon Le Bon and company will appear on The Tonight Show with Jay Leno this evening.
If you want to swap out a group of '80s bons vivants for a '90s waif, keep your dial locked on NBC: Britpop icon Richard Ashcroft, frontman of The Verve, has a new band and a new album coming out. He and The United Nations of Sound will join Jimmy Fallon tonight.
Wednesday, March 23
Carson Daly is a buffet for Brit-lovers tonight, serving up both director Duncan Jones (David Bowie's son) and hard-rocking Scottish trio Biffy Clyro.
Thursday, March 24
And it just doesn't stop with Carson: tonight, the former MTV VJ has Simon Pegg and Nick Frost, fresh off their latest hit Paul, on his late late late show.
Friday, March 25
Fearless Oscar winner Kate Winslet has dared to step into Joan Crawford's rip-roaring role in HBO's adaptation of Mildred Pierce, which premieres Sunday (March 27). She'll cop a squat with the ladies of The View to discuss it.
In a canny bit of counter-programming, The Talk, CBS's knockoff of The View, will welcome British novelist Jackie Collins. If you're wondering what she has to promote these days, Ms. Collins has a scandalous new book arriving titled Goddess of Vengeance, which sees her revisiting her long-suffering heroine Lucky Santangelo.
If none of the above interests you,  just watch Duran Duran again, this time on Ellen.
Saturday, March 26
Liam Neeson brings the heat opposite Julianne Moore and It girl Amanda Seyfried in the erotic thriller Chloe, which airs on Starz at 9 pm.
Sunday, March 27
The week culminates with the HBO premiere of Mildred Pierce, starring Winslet, Guy Pearce, recent Oscar winner Melissa Leo, and Evan Rachel Wood. In a very positive review, Variety says that you shouldn't expect anything like the campy 1945 Joan Crawford weeper, even comparing the new Mildred Pierce to "Masterpiece Theater." Brian Lowry writes, "Scheduled over three weeks (the last two parts, airing together, total 2½ hours), the project unfolds in an unhurried manner unlike anything on TV except perhaps 'Masterpiece' miniseries — and, indeed, has the feel of an Americanized version of a tony British costume drama."
If you're reading this blog, you know that's damned high praise. The first part of Mildred Pierce premieres at 9 pm tonight.
Read More
Filed Under: