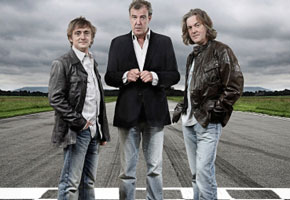 In this week's Tellyvangelist — your weekly guide to all that's British on U.S. TV — watch the season finale of Top Gear, catch The Wombats on Jimmy Kimmel, and see if maybe, just maybe, Regis and Kelly can get Daniel Radcliffe to belt it out live.
Monday, March 14
Top Gear's 16th season comes to a poignant end as Richard Hammond lives out some childhood dreams by driving two late '80s supercars; Jeremy Clarkson transverses England from east to west in an "epic night drive"; and James May looks at the latest Lunar Rover. And during tonight's broadcast, the winner of the "My First Car" contest will be announced.
Sir Anthony Hopkins is a guest on Tavis Smiley tonight.
Tuesday, March 15
Irish rocker-turned-activist Sir Bob Geldof turns up on the Late Show with David Letterman.
Wednesday, March 16
English indie rock band The Wombats appear on Jimmy Kimmel Live. Check out the video for their most recent single, "Anti-D."
Thursday, March 17
Daniel Radcliffe, who is learning to succeed on Broadway in How To Succeed in Business Without Really Trying, is a guest on Live with Regis and Kelly.
Friday, March 18
Florence and the Machine brings her pop melodrama to Last Call with Carson Daly.
Saturday, March 19
The Secret Life of Bees, set in the racially divided '60s South, airs 9 pm on Lifetime. Brits Paul Bettany and Sophie Okonedo (a.k.a. Doctor Who's Liz 10) round out an ensemble that includes Queen Latifah, Alicia Keys, and Jennifer Hudson.
Sunday, March 20
The first five Harry Potter films are airing in an all-day marathon on ABC Family.
What are you watching this week?
Read More
Filed Under: