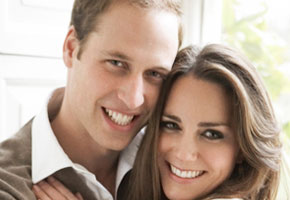 For us dinosaurs roaming the Earth back in 1981, it's hard to remember how much things have changed. When Prince Charles and Diana married, there was no Internet. No Facebook. No Twitter. Personal computers were little more than word processors. Photographs were taken on something called film. No cellphones. Television basically consisted of the three broadcast networks. CNN was 13 months old – and looked it.
Each royal wedding seems to symbolize a technological shift. The last major British royal wedding before Charles and Diana's was that of Princess Elizabeth, currently the Queen, in 1947. Then, there were only about 100,000 televisions in the U.S., all black-and-white. The notion of a live, color television transmission from London probably seemed as fantastic then as email would have in 1981.
Something else was going on in 1981, too. The press was at its zenith. Although it seems unimaginable today, reporters had cachet. The three network evening newscasts hit their peak in 1981-1982, with a combined 39.3 rating. The movie All the President's Men was released five years earlier, and every reporter thought they had at least a touch of Robert Redford or Dustin Hoffman. (Remember: Few VCRs, no CDs, no DVDs. It took longer for a movie to circulate then.) Journalists brought a zeal to their work not seen before or since. There were exposés of garden clubs.
And, in February, 1981, into this maw walked an unknown 19-year-old. Rarely, if ever, has someone so unprepared received so much sustained press attention so fast. Not only was Diana beautiful and photogenic, she projected a striking innocence. For the five months between the wedding and the engagement, Diana was a press feast. The Windsors never knew what hit them.
Adaptation is why the British monarchy has survived. Kate Middleton is proof. Every aspect of her character stands in sharp contrast to Diana's at this juncture.
Kate is 29; Diana was barely 20 when she walked down the aisle in St. Paul's. Kate graduated college with honors; Diana didn't complete a Swiss finishing school. Kate's parents work together in a family business; Diana's parents went through an acrimonious divorce. Prince Charles dated Diana for about 13 months before the engagement announcement; Kate and Prince William became romantically involved nearly a decade ago.
That last fact may be the most important. Not to put too fine a point on it, but Kate is road-tested. She has coped with the spotlight for a long time. Throughout, she has spoken up when she believed the press was out of line. She complained about press harassment in 2005, 2007, and as recently as last year. Kate's privacy is protected by a welter of laws Diana did not have. Kate may be beautiful. But no one would say she projects a striking innocence. Determination masked with a smile is more like it.
It's clear that an informal modus vivendi is at work. The press maintains a respectful distance in exchange for limited access and the occasional morsel. The Windsors now understand that a measure of cooperation gives them control. A few weeks ago some childhood photos of Kate were released. There will be no ex-school chum popping up with snaps to tarnish Kate's image. When Kate visited a London clothing store last week, photographers remained across the street. Such restraint was unthinkable during Diana's engagement.
Besides, the royals, like everyone else, understand they don't need the press. If Kate and William have something to say, they can post it on their website or tweet it. Any bets on how a royal pregnancy will be announced? It's a curious reversal. Now the reporters are flummoxed by technology, and it's the Windsors whose popularity is surging.
Small wonder a palace spokesman said this week: "We have a healthy relationship with the media."
Read More
Filed Under: