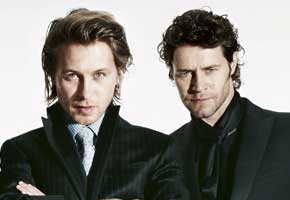 Last Sunday (March 6) wasn't the "Greatest Day" for Take That's Mark Owen and Howard Donald.
In what was supposed to be an easy trip to L.A. to see their bandmate Robbie Williams instead turned into quite the nightmare. When attempting to board their Virgin Atlantic flight, The Sun reports that the two British balladeers were suspected of traveling "without a working visa." And when a customs employee called for "Air France," Donald apparently misunderstood that for a "First Class" announcement and "accidentally jumped the queue for immigration." From there, Owen and Donald spent several hours sorting things out. Yikes!
"Howard was on the receiving end of the worst of it," said a source. "They thought he was pulling a fast one, coming in the U.S. to work. It was a fraught few hours. Howard was knackered and could have done without the hassle. Mark got through unscathed but it started the trip in the wrong mood."
In other Take That news, the band will take to the stage for the UK's upcoming Comic Relief special for Red Nose Day. The show is set to air on BBC 1 on March 18. No word whether or not they'll participate in David Walliams' Fake That spoof. Gosh, we so hope they do!
In the meantime, please enjoy the new video for "Kidz," Take That's second single from last year's best-selling album, Progress:
Read More
Filed Under: