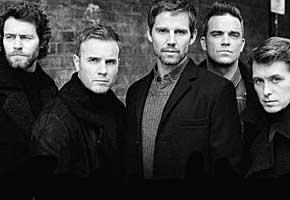 When pop stars plan megatours, often you'll hear about them trying to get in shape so they can cope with the rigorous demands of life on the road; such as sitting on a tour bus, walking from the tour bus to the venue, sitting in a dressing room, and suchlike.
What you don't often hear about are competitive dieting competitions between fellow band members, both desperately trying to out-thin the other.
And yet this is what is happening within the Take That camp at the moment: Robbie Williams and Gary Barlow are engaged in a weight-loss competition, as they prepare for a tour of Europe in May.
Robbie told the Sun: "Me and Gary vary in weight, we go up and down by the week.
"Gary and the boys were at my house in LA last week when Gary turns to me and says, 'I won't be needing these clothes soon, do you want them?' – 'cause he's going on a diet. That was the day I thought, 'Right, if you're eating a lettuce, I'm eating half a lettuce.'"
He went on: "There is now a serious game on to see who can get the thinnest for the tour. You know The Machinist with Christian Bale? I'm going for Christian Bale."
So that's two former rivals preparing for a stressful tour by engaging in a competition where the outcome is to try and emulate a famously intense and grumpy actor…
Yeah, that'll end well.
Do you think these men need to diet? Tell us here.
Read More
Filed Under: