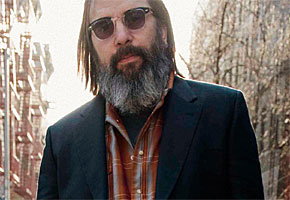 Anyone who's followed the zig-zag life and work of Steve Earle knows that he is a man of unexpected passions and deep thoughts. So it shouldn't really come as much of a surprise that one of the abiding literary joys of his life is the Harry Potter books, should it?
Yeah, it was a massive shock to us too.
It seems that when indulging in his love of reading about current affairs and world history gets a bit too much, Steve likes nothing better than to settle down with a good fantasy novel, and really got into JK Rowling's masterworks through the children in his life.
He told The Telegraph: "I mainly read non-fiction, and that's probably because I have a huge amount of insecurity about my lack of education and the things I don't know. But I loved the Harry Potter books. When the Potter '…Phoenix book was released in 2003 I was living with a woman and her 10-year daughter and we went out at midnight to get a new copy. There were kids lined up to buy a f*****g book. I thought that was so cool."
He went on: "I also tend to re-read the fiction I liked when I was younger, like Tolkien. I was that hippie generation, don't forget."
"Poetry is another of my other loves – Seamus Heaney, Ted Hughes, the poet Michael Longley from Northern Ireland. They're terrific."
And being such a fan of the written word, it's not surprising that Steve has had a crack at writing the Great American Novel himself. His first, I'll Never Get Out of This World Alive is being released in July, and features the ghost of Hank Williams as a character.
"It's really weird," says Steve, "full of heroin and ghosts – it's sort of a Harry Potter book for adults."
Sounds, er, great!
What's your favorite Harry Potter book? Tell us here.
Read More
Filed Under: