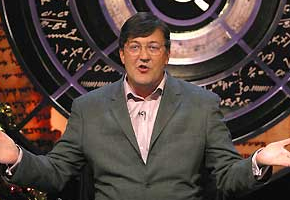 After making a BBC documentary detailing his sometimes queasy relationship with bipolar disorder, Stephen Fry has once again dropped the curtain of secrecy around his private life for TV cameras. Among other things, he reveals the full extent of his drug use, including "15 years of pretty chronic cocaine taking."
The QI quizmaster says he started taking the drug because he found it had a calming effect, during particularly manic episodes.
Speaking to the Sky Arts TV show In Confidence — which will be shown in June —, he said: "In my most hyper frames of mind, I found it was a wonderful drug to calm me down. I tended to take it alone at home and play word games, mind spinning. I'd do very difficult crosswords, I would spend hours on these."
Leaving aside for the moment the mind-boggling idea that there are crosswords that Stephen Fry —STEPHEN FRY! — could find "difficult,"  he also managed to find a typically unique way of expressing whether he was addicted to the drug or not, saying: "I found it extremely easy to stop, but it took me a very long time to get to a position where I was ready to."
Now, about those crosswords…
Should celebrities keep quiet about their drug use? Tell us here.
Read More
Filed Under: